Nächste Woche kommt der neue Clip "A Journey to Morocco" vom Pure Surf Team. Vorab gibt's heute den Trailer für euch!
Im Oktober war das Pure Surf Team in Marokko unterwegs, um für Ihren neuen Clip "A Journey to Morocco" zu filmen. Obwohl das Projekt ursprünglich als "deutscher" Surfmovie geplant war, waren neben Lenni Jensen, Juan Fischer, Finn Springborn, Tobi Schröder auch der niederländische Meister Remi Petersen und die Longboarderin Ophélie Ah-Kouen von den Réunion Islands am Start.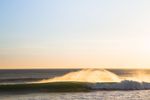 Insgesamt wurde 10 Tage gedreht, genug Zeit für das Team um beste Footage zu produzieren. Nächste Woche wird der Clip auf der Puresurfcamps Webseite Premiere feiern. Heute gibt es schonmal den Trailer für euch!