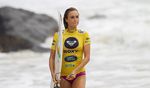 Es ist soweit – Alana Blanchard hat nach dem schlechten Resultat beim Maui Pro ihren Rückzug aus dem Wettkampfgeschehen verkündet.
Sie ist zwar mit Abstand die Surf-Queen der sozialen Netzwerke (1,6 Mio facebook fans), aber die virtuellen Fans können selbst Ihr das Verlieren nicht leichter machen.
I'm really fortunate that I have good fans and everything but I think I'm probably not going to do contests next year just because I'm not like super-happy doing it.

I don't know. I'm kind of excited for next year. I think I'm going to do different things and see what happens I guess.

I just feel relieved this year is over. I was pretty stressed out. I did pretty bad. But it's all good.
Ruhig wird es um sie jedoch sicherlich nicht werden, denn sie hat erst Anfang diesen Jahres einen neuen Vertrag mit ihrem Hauptsponsor Rip Curl unterzeichnet. Somit wird sie sich wohl mehr auf das Freesurfen und Modeln konzentrieren.

Mehr dazu hier: http://www.news.com.au/sport/sports-life/alana-blanchard-is-the-most-popular-surfer-in-the-world-but-she-cant-win-a-heat/story-fno61i58-1227145963630