Es war der Tag der Tage in Nazaré. Die Vorhersagen sind tatsächlich so eingetroffen wie erhofft und so kursieren bereits Gerüchte über einen neuen Rekord für die größte gesurfte Welle. Ein Name, der dabei immer wieder fällt, ist Andrew Cotton, der von Nazaré-Pionier Garret McNamara höchstpersönlich in eine unglaubliche Welle gezogen wurde.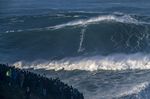 "Having such a giant swell at the beginning of the season is a bit like having the cup final 4 months early. Nerves and fears where definitely high but it's alway the challenge to turn the fear into focus, be in the moment and enjoy . Nazare definitely challenges you in many ways"
Neben "Cotty" war auch Lucas Chumbo ganz vorne mit dabei. Er sicherte sich die Welle nach Andrew und dürfte mit seiner Ausbeute mehr als zufrieden sein.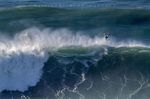 Sebastian Steudtner fühle sich sichtlich wohl in den Bedingungen, aber äußerte sich fast ein wenig enttäuscht über die Größe der Wellen: "It was fun, heavy. The sandbanks are really wide and it was heavy in the white water. It wasn't that 100ft day we're all looking for. It was challenging, a lot of energy. Got a couple of good waves, one solid wipeout. Had that white water triangle fall on me for the first time. Which was…an interesting experience [laughs]. Lots of action." So Sebastian nach der Session.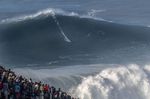 Auch World Champ Italo Ferreira war vor Ort und konnte sich nach einem holprigen Start eine ordentliche Bombe sichern.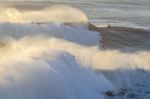 Hier die Highlights des 29. Oktobers von Fotografin Heidi Hansen: