Am Samstag hab es in Santa Monica einiges zu feiern, denn die 2018 World Surf League (WSL) Big Wave Awards wurden wieder verliehen. Und dieses Jahr mit einem ganz besonderen Highlight, denn es wurde ein neuer Weltrekord im Surfen für die größte jemals gesurfte Welle aufgestellt.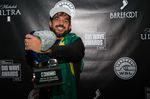 Der neue Rekordhalter ist der Brasilianer Rodrigo Koxa, der mit seiner Welle am 08. November 2017 in Nazaré, Portugal die 80 Fuß Marke brach. Mit 24,38 Metern konnte er den bisherigen Weltrekord von Garrett McNamara, der mit 78 Fuß (23,77 Meter) im Jahre 2011 den bisherigen Weltrekord aufgestellt hatte, knapp übertrumpfen. Für Rodrigo Koxa bedeutet das somit nicht nur den Gewinn des Quiksilver XXL Biggest Wave Award 2018, sondern auch eine Eintragung im Guinness World Record Register.
"I try to surf big waves all my life and I had a huge experience in 2014 where I almost died at Nazaré. Four months later, I had bad dreams, I didn't travel, I got scared, and my wife helped me psychologically. Now, I'm just so happy and this is the best day of my life. Thank you to WSL, it's a dream come true." so Koxa bei seiner Ansprache bei den Big Wave Awards.
Der " Ride of the Year " ging dieses Jahr an den Hawaiianer Ian Walsh, der bei der 2018 Pe'ahi Challenge mit seiner XXL Barrel für Aufsehen sorgte. Für die gleiche Welle konnte er sich auch noch den "Tube of the Year" Award einstecken.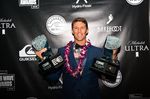 Die Best Overall Performance ging verdient an Lucas "Chumbo" Chianca, der mit seinem Sieg bei der Nazaré Challenge demonstrierte, dass man sich auch als 22-jähriger schon in der Big Wave Elite etablieren kann.
Der unbeliebteste Award für den "Wipeout of the Year" ging an den Briten Andrew Cotton, der in Nazaré so schwer erwischt wurde, dass er sechs Monate flach lag. Der Award ist zumindest eine kleine Wiedergutmachung für diese Zeit.