Caroline Marks & Gabriel Medina haben sich beim Rip Curl Narrabeen Classic North in Narrabeen Beach durchsetzen können und sind jetzt ganz vorne mit dabei, wenn es in die nächste Runde geht.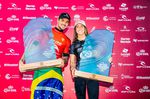 Der zweimalige Weltmeister Gabriel Medina hat sich mit unglaublichen Scores im Finale gegen Conner Coffin durchsetzen können und holte sich somit seinen 15ten Sieg auf der CT. Mit einem Heatscore von unglaublichen 18.77 Punkten in den ersten 15 Minuten, untermalt von back-to-back full-rotation air-reverses sicherte er seine Position.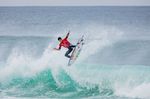 "I haven't had this winning feeling for a while and it feels amazing. It feels good to put on that sort of a performance in a Final. Sticking my airs and hearing the crowd chant my name was really cool. I've had a few finals recently but was making some mistakes, but it feels good to come back here and fix my mistakes. I feel like I got better and am so happy with my performance. This has been a fun week. I've never had such a good time here in Australia. The Northern Beaches have been so nice, the food, the beaches, the people. We have had so much amazing support on the beach as well, it's just been so fun."
Mit dem Sieg setzt er sich an die Weltspitze und sorgt somit für einen heißen Kampf auf der Championship Tour. Die Top 5 Surfer haben bei den Rip Curl WSL Finals einen riesigen Vorteil da sie im best-of-three battle direkt im Finale antreten dürfen.