Besser spät als nie – der Roxy Pro & Quiksilver Pro France 2018 hat auf sich warten lassen, aber gestern gab es endlich die erhofften sauberen Bedingungen in Plage des Culs Nus.
Mit 1.2 – 1.8  Meter Wellen und frischem Offshore konnten die Surfer/innen zeigen was sie in den französischen Beachbreaks drauf haben. Die Damen durften zuerst ins Wasser und konnten die Runde zwei komplett durchziehen. Bei den Herren wurde die erste Runde und die ersten zwei Heats der Runde zwei gesurft werden.
Julian Wilson und Italo Ferreira waren zwei der herausragenden Surfer der ersten Runde.  Mit einer Barrel, Alley-Oop und einem Big Snap Finish holte sich Julian eine 8.50. "I knew there were opportunities out there and that I'd be able to roll the dice quite a few times. That first wave was probably the best one I rode in the heat and I probably did my best surfing on it as well so it's nice to get rewarded for it. Being a parent is the most amazing and most challenging thing in the world, but it's so beautiful to have my family here. I'm happy to put on a good performance because there have been some challenging days." so Wilson nach seinem gewonnen Heat.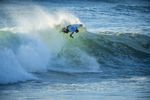 Auch Parko hatte das Glück sich in der ersten Runde gegen Jeremy Flores und Willian Cardoso durchsetzen zu können und freut sich bei seinem letzten Quik Pro über den direkten Einzug in Runde drei.
"It's awesome being here with my family. They've been good caddies today and I've done alright considering I had a shocker on a good wave. It's amazing to be back, it feels like a victory lap an I'm glad the waves are pumping. I had a two-hour free surf this morning and had a smile on my face ever since. Regardless of the result, it's going to be an enjoyable event."
Der Livestream der Runde zwei ist online und so freuen wir uns auf mehr Action aus Frankreich.