Der zweite offizielle Contesttag des Volcom Pipe Pro 2018 wurde von Webcast Moderator Vaughan Blakey als "nuggetty, aggro little teepees" bezeichnet.
Der spannendste Heat ging an Anthony Walsh und Finn McGill, der mit seinem "Perfect 10" Score für ordentlich Wirbel sorgte. Finn kam top motiviert auf die Insel, nachdem er in Australien gerade den World Junior Championship gewonnen hatte.
"I feel like once you're on a roll, you're on a roll for a long time. Even if you do have one loss, it doesn't matter that much you still feel like you're on top of the world and you can do anything. I just feel that I'm on a roll right now and just feel really loose, going out into every heat I'm never nervous, it's such a cool feeling."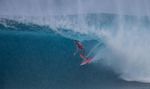 Im Rennen um die Qualifikation trafen O'Brien, Kalani Chapman und Derek Ho aufeinander. JOB ließ vor seiner Haustüre nichts anbrennen und schaffte es mit mehreren top Scores ins Hauptevent.
Hier der Recap des Tages: