Im Finale musste er gegen den souveränen Brasilianer Italo Ferreira in sauberen 3-4 ft Wellen am Praia do Guincho alles geben, um den kleinen Wusler im Zaum halten zu können. Es war seit seinem ersten Platz beim VANS World Cup 2013 der erste Sieg bei einem QS Event für Zeke. Nun darf er sich über einen stolzen 12. Platz auf der QS Rangliste freuen.
"It's the first year I even make a heat here so to be in the final is a huge win, I'm super stoked with everyone supporting me here and everyone back home! It's been a learning year for me, learning about myself and how I like to compete. I just approached every day like it was a normal surf, just with a jersey on, and I love to compete so I just learned to love every bit of it." so Lau nach dem Sieg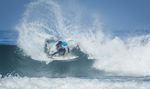 Ferreira hat nach seiner verletzungsbedingten Pause wieder Vollgas geben können. Jetzt wird es spannend wie er sich beim Quik Pro in Farnkreich schlagen wird.
"It was a hard three months to sit out due to my injury, so I'm super happy to be back.Congrats to Zeke, he surfed really well and thanks to everyone who came here to support us, the vibe here in Portugal is always awesome. I have a lot of great memories in Portugal with the World Juniors, Peniche and now here so I'm super stoked to come back every time." so Ferreira
Im Halbfinale war für den Local Hero Frederico Morais leider Schluss. Er kämpfte unermüdlich gegen den Hawaiianer, aber leider reicht es am Ende nicht für den Einzug ins Finale.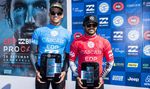 Hier noch die Ergebnisse:
DP BILLABONG PRO CASCAIS FINAL RESULTS:
1: Ezekiel Lau (HAW) 12.90
2: Italo Ferreira (BRA) 12.10
EDP BILLABONG PRO CASCAIS SEMIFINAL RESULTS:
SF 1: Italo Ferreira (BRA) 12.67 def. Kanoa Igarashi (USA) 12.30
SF 2: Ezekiel Lau (HAW) 15.27 def. Frederico Morais (PRT) 12.13