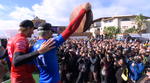 And the winner is…..Filipe Toledo.
War klar, denn spätestens nach dem unglaublichen 10 Punkte Run war allen bewusst, dass es schwierig wird den Brasilianer zu stoppen. Aber es war knapp und das nicht etwa wegen eines John John Florence oder Jordy Smith, nein der Portugiese Frederico Morais hat es bis nach ganz oben geschafft und hat Filipe den Sieg um Haaresbreite noch weggeschnappt. Er ist der erste Portugiese der es jemals in das Finale in Südafrika oder sogar auf der CT geschafft hat (korrigiert uns wenn wir hier falsch liegen).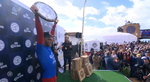 Die Bedingungen waren nicht ganz einfach, aber nach den Zwischenfällen am gestrigen Tag verlief alles ruhig und gelassen. Keine Hai, Boote oder ähnliches in den Wellen von Jeffreys Bay. Schade nur für Jordy, denn wir hätten ihm den Heimsieg gegönnt und er war einer der herausstechenden Surfer bei den Corona Open J-Bay 2017.
Der ausführliche Recap Artikel folgt!