Nachdem unser Video von der EM im Stationary Wave Riding auf fast allen großen internationalen Surf Websites veröffentlicht wurde, ist das Thema "Wavepool Surfing" ein heiß diskutiertes.
Gerade der Clip beim amerikanischen SURFER Mag wurde mit über 700 Kommentaren befeuert. Grund genug, ein paar der Kommentare heraus zu picken, denn gerade der Punkt Surfen=Natur scheint zu polarisieren.
Sitting in 12 feet of ocean water watching waves roll at you from over the horizon, wondering if it is for you or not, pink sunsets and the smell of salt water, the moment when the paddle gives way to the forces of nature and before you know it your falling down the watery cliff only to recover and skate up and down the giant beast before kicking out the back in a spray of cold glory. That's surfing. This thing sucks
Selbstverständlich gehört im Idealfall das Surfen und somit der Spaß im Ozean und der Natur zusammen, aber leider ist für die Mehrzahl der deutschen Surfer der "Idealfall" relativ urlaubsbezogen. Klar können das die Jungs und Mädels aus Kalifornien, Australien oder Brasilien nicht nachvollziehen, wie man sich mit einem Surf im Fluss oder Wavepool befriedigen kann, aber wie sagt man doch so schön, "in der Not frisst der Teufel Fliegen". Wenn Fliegen die künstlichen Wellen bedeuten, sind wir dann automatisch der "Surf Teufel"?
Eisbach Surfer Ben Müller hat sich mit folgendem Kommentar passend dazu geäußert:
"I'm a landlocked surfer from Germany. YES this is not surfing like in the ocean. This is totally different. You don't have to duckdive, you don't have to search for a wave, you don't have to paddle out and wait for the next wave to surf it, also you don't have to sit in the lineup… But it's still surfing! Ist riversurfing -- it's the only way to live the dream of "real" surfing……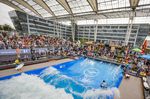 Ob man diesen Sport unbedingt "Wellenreiten" nennen muss, kann man diskutieren, aber mit dem Ausdruck "Stationary Wave Riding" haben die Organisatoren der EM ja schon versucht einen Spagat zwischen "echtem" Surfen und "künstlichem" Surfen zu schaffen. Auch "Riversurfing" ist mittlerweile ein feststehender Begriff und wird auch gerne das "Inlineskaten des Skateboardens" bezeichnet!
Call it whatever's, but maybe Lufthansa should just stop sponsoring events like this, so the folks who still prefer salt water, would actually be able to take their boards for a reasonable amount of money. $100 to go from Munich to Lisbon…r u f-ing kidding me? Just does not make a whole lot of sense…
Was das Thema Sponsoring und Flughafen angeht, steht auf einem anderen Zettel, denn wie Iris in ihrem Kommentar ganz gut anmerkt -- welchen Sinn macht es für Lufthansa diese Veranstaltung zu unterstützen, wenn sie sich ganz offensichtlich mit 100€ Surfboardtransport pro Strecke als eine der surfunfreundlichsten Airlines überhaupt auftritt.
Auch die Wahl der Location ist zwanghaft zeitgemäß für unsere immer schneller werdende  Gesellschaft. Kurzer Stopover-Surf bis es weitergeht nach Shanghai, NY oder Tokio…..aber nach dem großen medialen Interesse dieses Jahr schafft man es vielleicht, die EM ins Olympiastadion oder an den Alex zu bringen.
Am Ende vielleicht noch unser Lieblingskommentar von Simmy McMichael:
"This would be great if they would change all Dolphinarium to this now! Free all the whales and dolphins now, so they can surf in the ocean."