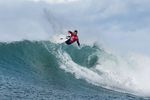 J-Bay Open 2015 – der sechste Tour Stopp der World Surf League (WSL) Championship Tour hatte ein paar Startschwierigkeiten, aber mittlerweile sind wir schon bei Runde drei angekommen.
Die Jungs sind momentan dran sich in schönen 1,5 Meter Wellen in die nächste Runde zu kämpfen. Für einige war es jedoch gestern schon zu Ende. Wie beispielsweise für Taj Burrow,  Jordy Smith und Owen Wright, die sich leider schon in den Flieger nach Tahiti setzen können. Joel Parkinson ist noch dabei und hat sich riesig über seinen Heat gefreut: "That's the heat you just dream of at J-Bay. I've got a couple of throw away results but I won't give up. I'm happy where I am and I've been surfing well. I just started quite bad but I feel like I'm not the only one who started slow. It will be a race to see who finishes strong. I feel like after the last event I started getting some flow and this could be a good result for me." Der momentan Führende –  Adriano de Souza, war nicht zu stoppen und surft nun gegen Dane Reynolds in Runde 3.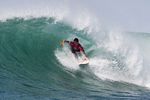 Auch  Gabriel Medina konnte nach einem schwachen Start dieses Jahr endlich wieder ein paar ordentliche Scores einfahren, auch wenn er durch das gebrochene Board von Heatgegener Glenn Hall klar im Vorteil war. 
Hier gehts zum LIVE Webcast: WorldSurfLeague.com.
Hier die Ergebnisse:
J-Bay Open Round 2 Results:
Heat 1: Adriano de Souza (BRA) 14.33 def. Slade Prestwich (ZAF) 13.04
Heat 2: Filipe Toledo (BRA) 12.00 def. Michael February (ZAF) 8.00
Heat 3: Owen Wright (AUS) 16.17 def. Tomas Hermes (BRA) 13.77
Heat 4: Alejo Muniz (BRA) 18.13 def. Taj Burrow (AUS) 15.83
Heat 5: Nat Young (USA) 17.10 def. Brett Simpson (USA) 12.10
Heat 6: Italo Ferreira (BRA) 15.96 def. Dusty Payne (HAW) 15.16
Heat 7: Gabriel Medina (BRA) 16.00 def. Glenn Hall (IRL) 10.44
Heat 8: Joel Parkinson (AUS) 18.84 def. Ricardo Christie (NZL) 18.13
Heat 9: Adam Melling (AUS) 14.90 def. Jordy Smith (ZAF) 8.03
Heat 10: Kai Otton (AUS) 18.10 def. Jadson Andre (BRA) 17.07
Heat 11: Wiggolly Dantas (BRA) 17.77 def. Miguel Pupo (BRA) 15.23
Heat 12: Matt Wilkinson (AUS) 14.80 def. Sebastian Zietz (HAW) 13.93
J-Bay Open Round 3 Results:
Heat 1: Adrian Buchan (AUS) 15.50 def. Owen Wright (AUS) 15.40
Heat 2: Kai Otton (AUS) 15.50 def. Italo Ferreira (BRA) 12.83
Heat 3: Julian Wilson (AUS) 17.94 def. Fredrick Patacchia (HAW) 8.40
Heat 4: Nat Young (USA) 16.87 def. Adam Melling (AUS) 8.03
J-Bay Open Round 3 Upcoming Match-Ups:
Heat 5: Joel Parkinson (AUS) vs. Wiggolly Dantas (BRA)
Heat 6: Adriano de Souza (BRA) vs. Dane Reynolds (USA)
Heat 7: Mick Fanning (AUS) vs. C.J. Hobgood (USA)
Heat 8: Gabriel Medina (BRA) vs. Matt Wilkinson (AUS)
Heat 9: Kelly Slater (USA) vs. Kolohe Andino (USA)
Heat 10: Josh Kerr (AUS) vs. Keanu Asing (HAW)
Heat 11: Bede Durbidge (AUS) vs. Michel Bourez (PYF)
Heat 12: Filipe Toledo (BRA) vs. Alejo Muniz (BRA)