http://mpora.com/videos/sJjmvUDWz
Am Samstag war es wieder an der Zeit die Sieger des Telstra Drug Aware Pro 2012 in Margaret River zu küren. Sonnenschein und cleane 1, 5 Meter Wellen zogen tausende Zuschauer an den Strand, um den zwei Blondschöpfen John John Florence und Courtney Conlogue bei Ihrem Sieg anzufeuern.
John John konnte sich im im Finale gegen den Hawaiianer Olamana Eleogram mit soliden Runs durchsetzen. "I've been having a lot of fun this week, the waves are are a lot like at home, even the wind when it's good for airs is a lot like Hawaii. The waves have been fun in all of my heats. I'm so stoked to win. This gives me a lot of confidence going into Bells because I hear the waves are similar. I was so stoked to make the Final with Ola (Eleogram), I've grown up surfing with him and to have him in the Final with me at Margaret River was great."so Florence nach dem Sieg.
Bei den Damen konnte die Amerikanerin Courtney Conlogue ihren Titel vom letzten Jahr verteidigen und sich im Finale gegen die hübsche Malia Manuel beweisen. "I was trying not to think about going back-to-back too much because I didn't want to put pressure on myself," so Conlogue. "I'm stoked to have gotten two in a row. This place taught me a lot last year and the years before. The first time I came here I lost in the second round and it was quite an embarrassing heat. Going from that to what I've done now feels great, and each year I come back I feel like I get to know the waves better and better. Now I'm looking forward to going to Bells because this place is great training for down there."
Zur grossen Überraschung trat auch Mark Occhilupo bei diesem Contest an, um sich nochmal mit der Weltelite in Margaret River zu messen. Leider kam für Ihn das AUS im Halbfinale gegen den zweitplatzierten Olamana Eleogram. Aber Hut ab vor dem alten Herren!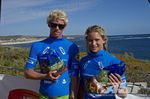 Hier die Ergebnisse:
TELSTRA DRUG AWARE PRO MEN'S FINALE:
John John Florence (HAW) 18.76 def. Olamana Eleogram (HAW) 15.43
TELSTRA DRUG AWARE PRO MEN'S HALBFINALE:
SF 1: Olamana Eleogram (HAW) 11.67 def. Mark Occhilupo (AUS) 9.84
SF 2: John John Florence (HAW) 19.13 def. Kai Otton (AUS) 14.37
TELSTRA DRUG AWARE PRO MEN'S VIERTELFINALE:
QF 1: Olamana Eleogram (HAW) 14.83 def. Josh Kerr (AUS) 2.34
QF 2: Mark Occhilupo (AUS) 17.63 def. Tom Whitaker (AUS) 16.03
QF 3: John John Florence (HAW) 15.44 def. Nic Muscroft (AUS) 13.10
QF 4: Kai Otton (AUS) 16.90 def. CJ Hobgood (USA) 13.93
TELSTRA DRUG AWARE PRO WOMEN'S FINALE:
Courtney Conlogue (USA) 16.23 def. Malia Manuel (HAW) 11.03
TELSTRA DRUG AWARE PRO WOMEN'S HALBFINALE:
SF 1: Malia Manuel (HAW) 15.90 def Nikki Van Dijk (AUS) 13.40
SF 2: Courtney Conlogue (USA) 15.67 def. Rebecca Woods (AUS) 11.00
TELSTRA DRUG AWARE PRO WOMEN'S VIERTELFINALE:
QF 1: Malia Manuel (HAW) 12.00 def. Pauline Ado (FRA) 9.83
QF 2: Nikki Van Dijk (AUS) 12.17 def. Stephanie Gilmore (AUS) 11.17
QF 3: Rebecca Woods (AUS) 10.33 def. Laura Enever (AUS) 9.06
QF 4: Courtney Conlogue (USA) 15.26 def. Kirby Wright (AUS) 12.90