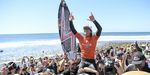 Jordy Smith und Tyler Wright (AUS) haben sich gestern den Sieg beim Hurley Pro bzw Swatch Women's Pro in Trestles geholt. In kleinen aber feinen Wellen holte sich Jordy seinen fünften Championship Tour Sieg gegen 2012 WSL Champion Joel Parkinson.
Die Veranstaltung wurde leider von dem Thema des fehlerhaften Judgings überschattet. Jordy sah das jedoch locker und äusserte sich wie folgt nach dem Event: "I've had a really good surfboard under my feet this event. I came into the event with an open mind. I missed it last year when the waves were firing so I just wanted to come in and take it heat-by-heat. I've watched Joel [Parkinson] throughout my career and he's one of my favorite surfers. I'm frothing and I'm over the moon."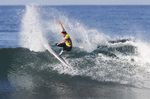 Für Tyler Wright war es der vierte CT Sieg diese Saison, als sie Stephanie Gilmore im großen Finale besiegen konnte. Somit baut Sie ihren Führungsposition auf der Weltrangliste weiter aus und ist auf einem guten Weg dieses Jahr Weltmeisterin zu werden.
Hier alle Ergebnisse: