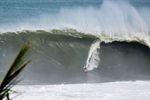 Der erste Tourstopp der 2017 WSL Big Wave Tour (BWT) – die Puerto Escondido Challenge zeigte sich von der schönsten Seite.
Mit 20-25 Fuß Sets konnten die 24 Surfer beweisen wer die sandigen Barrels von Mexpipe am besten beherrscht. Am Ende war es der Waterman Kai Lenny, der sich auf seiner Gun austoben konnte. Das Event wurde von Big Wave Tour Commissioner Mike Parsons mit "Bronze" ausgezeichnet und so führt Lenny die Liste mit 10.000 Punkten an.
"I remember coming here last year and being super terrified because I had never been here. My goal last year was to make the Final because I missed out last time. There are so many good big wave surfers in the world that when you get called up you really feel like you have to perform and charge. My goal today was to not hold back and — when a good one came — go no matter what. It was a pleasure competing with these guys. Any one of them could have won if they got the waves and I was just grateful to get that last one in the end. It was so special. Thank you to my friends, family, and sponsors. I am super grateful right now!" so Lenny nach dem Sieg
Im Finale kämpften Jamie Mitchell (AUS), Tom Lowe (GBR), Billy Kemper (HAW), Trevor Carlson (HAW) & Alex Botelho (PRT) neben Kai Lenny um den Sieg. Bis kurz vor Ende des Heats führte Mitchell, der jedoch wenige Minuten vor Ende mit einer Barrel von Kai geschlagen wurde. Es ist bis dato das beste Ergebnis von dem Allround- Talent, der normalerweise wohl mehr auf SUP, Kite oder Windsurfer unterwegs ist.
Die BWT ist aufgeteilt in eine Southern Hemisphere und Northern Hemisphere Tour und mit der Puerto Escondido Challenge kommt der südliche Teil der Tour zu einem Ende. Am 15. Oktober startet dann der nördliche Teil mit Portugal, Hawaii und Mexiko.
Hier die Ergebnisse:
1 – Kai Lenny (HAW) 23.53
2 – Jamie Mitchell (AUS) 18.64
3 – Tom Lowe (GBR) 12.23
4 – Billy Kemper (HAW) 8.50
5 – Alex Botelho (PRT)
6 – Trevor Carlson (HAW) 2.46