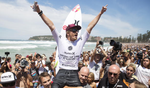 Nach dem großartigen Saison Auftakt mit einem Sieg bei den Hurley Australian Open of Surfing 2015 in North Narrabeen hat Kolohe Andino nun mit anderen Problemchen zu kämpfen.
So hat er sich nach einem Interview von Channel V erstmal einen fetten Diss von dem Moderator Danny Clayton im Live Fernsehen abholen müssen. Hier beschimpft Clayton den 20-jährigen Pro Surfer mit den Worten:
Stay the fuck away from my girlfriend
Nach der Aussage des Moderators hat sich Kolohe an seine Freundin, dem Model und Schauspielerin Zoe Cross, rangemacht und schickt Ihr anzügliche Nachrichten.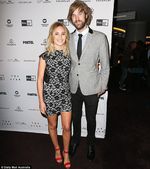 Daraufhin äusserte sich Kolohe in einem Radio Interview und versuchte diese öffentliche Bloßstellung wieder ins richtige Licht zu rücken. Nach seinen Worten sind die beiden "nur Freunde". Des Weiteren gab er folgende Aussage ab:
"I don't want people thinking I was raised wrong and thinking I was creeping out a girl.The part where he says I'm making her feel uncomfortable … I was pretty bummed, but I'm here to do a job and I did it and I'm happy with the weekend. I don't look at myself in the mirror and say I'm a threat to guys' girlfriends."