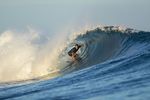 Es ist bereits der zweite Lay Day beim Fiji Pro 2015 und die Surfer sind heiß endlich ins Wasser zu kommen. Die Aussichten sind jedoch ganz vielversprechend und so wird lieber abgewartet.
"It's pretty small at out there, although conditions are good with offshore winds. Sets are only in the waist- to head-high range and really inconsistent so we'll have another lay day today. We'll come tomorrow and reassess but we're still tracking a great swell for the end of the week." so ," Kieren Perrow, WSL Commissioner
In der Eröffungsrunde wird es gleich spannend denn Kelly Slater wird gegen Kolohe Andino und Alejo Muniz in Runde 1 antreten müssen.
Fiji Pro Round 1 Match-Ups:
Heat 1: Kelly Slater (USA), Kolohe Andino (USA), Alejo Muniz (BRA)
Heat 2: Taj Burrow (AUS), Matt Banting (AUS), Aritz Aranburu (ESP)
Heat 3: Josh Kerr (AUS), Wiggolly Dantas (BRA), Jay Davies (AUS)
Heat 4: Filipe Toledo (BRA), Adrian Buchan (AUS), Dane Reynolds (USA)
Heat 5: Mick Fanning (AUS), Ricardo Christie (NZL), Aca Ravulo (FJI)
Heat 6: Adriano de Souza (BRA), Kai Otton (AUS), Inia Nakalevu (FJI)
Heat 7: Gabirel Medina (BRA), Jeremy Flores (FRA), C.J. Hobgood (USA)
Heat 8: Owen Wright (AUS), Sebastian Zietz (HAW), Dusty Payne (HAW)
Heat 9: Nat Young (USA), Miguel Pupo (BRA), Glenn Hall (IRL)
Heat 10: Julian Wilson (AUS), Jadson Andre (BRA), Adam Melling (AUS)
Heat 11: Bede Durbidge (AUS), Matt Wilkinson (AUS), Keanu Asing (HAW)
Heat 12: Joel Parkinson (AUS), Italo Ferreira (BRA), Fredrick Patacchia (HAW)