Gestern ging es bei etwas verblasenen Bedingungen in Supertubos los.
Der MEO Rip Curl Pro Portugal 2019 macht es mal wieder spannend, denn wie zu erwarten, haben sich Gabriel Medina und Carissa Moore auf dem Weg zum Weltmeistertitel gut geschlagen. Beide ließen in den Vorrunden nichts anbrennen und setzten sich somit weiter an die Spitze des Leaderboards. Somit könnten die zwei schon vor dem großen Showdown in Hawaii das Rennen machen und sich den Weltmeistertitel sichern. Auch der leicht verletzte Filipe Toledo schaffte es trotz Schmerzen durch seinen Heat.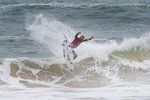 Richtig spannend wurde es dann aber erst im Heat 3, in dem sich Yago Dora, Italo Ferreira und Frederico Morais einen harten Kampf lieferten. Am Ende musste sich der Lokalmatador geschlagen geben und muss nun in der Elimination Round 2 nochmal beweisen.
"Sometimes you just have to improvise.The waves were really hard out there, closing out fast and supper hollow and powerful so I tried to concentrate on one big move or two if I ever could. There are a lot of good waves around, the back up spot is super fun but hopefully Supertubos will turn on soon, the wind is supposed to switch around and go offshore." so Dora nach dem Heat.