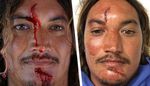 Bei einer "doubleup" Welle in "Off the Wall" wurde Mikala von der Druckwelle beim Einschlag der Wellenlippe vom Brett gefegt. Danach ging alles ganz schnell, so der Hawaii Local. Wahrscheinlich haben ihn die Finnen seines Boards im Gesicht erwischt.
…I was flipping through the air with my board, and I think I hit my fins. I didn't hit the rails. I didn't hit the reef. It happened so quick and I popped up, and I was like Fuck.
so Mikala nach dem Unfall. Mit 21 Stichen wurde er wieder zusammen geflickt und kann voraussichtlich nach einer kurzen Auszeit wieder ins Wasser.
Auch Evan Geiselman scheint auf dem Weg der Genesung zu sein, denn nach Augenzeugenberichten kann er schon wieder laufen und äusserte den Wunsch bei dem Volcom Pipeline Pro im Januar wieder fit sein zu wollen. Wir drücken ihm die Daumen!