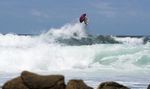 Freudige News erreichen uns aus Merewether Beach – Australien, denn hier hat Owen Wright bei dem Maitland and Port Stephens Toyota Pro nach seiner langen Verletzungspause seine ersten Heats gesurft und gesiegt.
"It felt amazing to get back out there and compete – it was really emotional. There is no doubt that this has been the hardest year of my life, a real roller coaster ride. Now I'm through the bad and on the other side of it I feel better, stronger and really excited to have this rash-shirt on and competing again." so Wright nach seinem ersten Contesttag.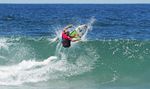 Er ließ seinen Kollegen Luel Felipe, Nate Yeomans und  Alan Donat nicht viele Chancen und kann sich nun über den Einzug in Runde drei freuen. Wir drücken ihm die Daumen und freuen uns auf weitere spannenden Heats!