Bei 1,2-1,5 Meter Snapper Rocks Wellen gab es am vergangen Wettkampftag wirklich großes Drama, oder nennen wir es besser Favoriten-Sterben.
Die Wildcard Mikey Wright war weiter auf Erfolgskurs, denn nach dem Sieg gegen John John Florence ging es nun auch Gabriel Medina an den Kragen. Doch leider wurde ihm das neue Round 4 Format zum Verhängnis und so musste sich Mickey später gegen Filipe Toledo und Adrian Buchan geschlagen geben.
Für Bruder Owen Wright schaut es jedoch noch gut aus im Rennen um den Sieg an der Gold Coast. Nach seinem überzeugenden Heat gegen CT Rookie Willian Cardoso in Runde 3 schmiss er seinen Freund und Local Mick Fanning aus dem Rennen.
"I did my first trip with Mick [Fanning] when I was 14- He has been like a guardian angel to me through my head injury. He's showed me a lot of guidance over the years and is definitely one of my heroes so to have the chance to surf heats with him is really nice. I've always wanted to finish at the top of the rankings. I've managed to stay up there — even if I've had a few injuries and setbacks over the years — but I'm feeling so good and healthy now and am building and building." so Owen nach dem Sieg gegen sein Vorbild.
Auch Joel Parkinson schaffe es nicht, sich an seinem Homespot gegen die neue Garde zu beweisen und so war es der erst 19-jährige 2018 CT Rookie Griffin Colapinto, der ihn versägte.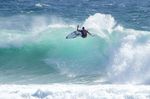 Der Brasilianer Michael Rodrigues sorgte auch für eine große Überraschung als er Adriano de Souza  in Runde 4 besiegte. Den Heat dominiert hatte jedoch Michel Bourez, der in den Quaters gegen Griffin Colapinto antreten muss.
Den spannendsten Heat gab es zwischen Toledo und Italo Ferreira, die sich in Snapper einen packenden Zweikampf lieferten. Am Ende waren es nur 0.9 Punkte die Toledo zum Sieg verhalfen.
Jetzt wird es ernst und wir sind wirklich gespannt wie es ggf schon heute ausgehen wird.