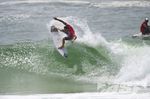 Wir schreiben Tag 2 an der Gold Coast. Ein neuer Tag bringt neue Helden.
Held der Runde 2 war vielleicht Jordy Smith, der in seinem Heat gegen Old-Dog Taylor Knox nichts anbrennen ließ. "I just had to make sure I was on the waves that allowed for those big power turns. If I could do that and mix it up with some explosive stuff, I knew I'd get the scores I wanted. After losing yesterday, I promised myself I'd go out there and have fun. I'd built this contest up way too much in my head and now I'm feeling more relaxed." so Jordy.
Auch Joel Parkinson war wieder auf der Siegerstrasse und gewann gegen Trails-Gewinner Garrett Parkes. "Snapper always has a bit of morning sickness, and being a local helps me to know where to sit. Yesterday I knew no one loses in Round 1, it was a great heat to be in and a good warm-up for the event. I walked away thinking I didn't have a shocker and the tour is all about man-on-man heats. Then today I expected Garrett (Parkes) to throw out some big scores, the kid has a big future, it's only a matter of time before he takes down a big name and I'm glad it wasn't me." sagte Parko nach seinem Sieg.
Um bei den großen Namen zu bleiben, kam es zum großen Showdown zwischen Taj Burrow und Dane Reynolds, die wirklich eine grandiose Show hinlegten. Am Ende war es Taj der mit einem grinsen im Gesicht aus dem Wasser stieg und in Runde 3 weiterziehen darf.
Yadin Nicol schaffte es letzte Nacht seinen ersten Heat auf der ASP World Championship Tour  gegen keinen geringeren als Gabriel Medina zu gewinnen. Ähnlich ging es auch Kolohe Andino, der seinen Einstand auf der Tour mit einem Sieg gegen Brett Simpson feiern konnte.
Hier die Highlights der Runde 2:
Die Ergebnisse der Runde 2:
QUIKSILVER PRO GOLD COAST RUNDE 2 ERGEBNISSE:
HEAT 1: Joel Parkinson (AUS) 16.36 def. Garrett Parkes (AUS) 6.43
HEAT 2: Taj Burrow (AUS) 18.10 def. Dane Reynolds (USA) 16.06
HEAT 3: Yadin Nicol (AUS) 13.13 def. Gabriel Medina (BRA) 12.53
HEAT 4: Julian Wilson (AUS) 14.06 def. Kai Otton (AUS) 13.73
HEAT 5: Jordy Smith (ZAF) 17.43 def. Taylor Knox (USA) 12.33
HEAT 6: Travis Logie (ZAF) 15.30 def. Alejo Muniz (BRA) 13.03
HEAT 7: Josh Kerr (AUS) 17.60 def. Patrick Gudauskas (USA) 10.53
HEAT 8: Matt Wilkinson (AUS) 15.86 def. Damien Hobgood (USA) 10.33
HEAT 9: Jeremy Flores (FRA) 13.67 def. Jadson Andre (BRA) 12.07
HEAT 10: Kieren Perrow (AUS) 14.00 def. CJ Hobgood (USA) 13.84
HEAT 11: Bede Durbidge (AUS) 13.53 def. Tiago Pires (PRT) 10.73
HEAT 12: Kolohe Andino (USA) 14.33 def. Brett Simpson (USA) 13.87
UPCOMING QUIKSILVER PRO GOLD COAST RUNDE 3 MATCH-UPS:
HEAT 1: Owen Wright (AUS) vs. Matt Wilkinson (AUS)
HEAT 2: Josh Kerr (AUS) vs. Kieren Perrow (AUS)
HEAT 3: Adriano De Souza (BRA) vs. Kolohe Andino (USA)
HEAT 4: Michel Bourez (PYF) vs. Bede Durbidge (AUS)
HEAT 5: Jeremy Flores (FRA) vs. Heitor Alves (BRA)
HEAT 6: Kelly Slater (USA) vs. Fredrick Patacchia (HAW)
HEAT 7: Joel Parkinson (AUS) vs. Yadin Nicol (AUS)
HEAT 8: Mick Fanning (AUS) vs. Miguel Pupo (BRA)
HEAT 9: Jordy Smith (ZAF) vs. Raoni Monterio (BRA)
HEAT 10: Julian Wilson (AUS) vs. Adam Melling (AUS)
HEAT 11: John John Florence (HAW) vs. Adrian Buchan (AUS)
HEAT 12: Taj Burrow (AUS) vs. Travis Logie (AUS)
Weiter geht es voraussichtlich heute Nacht (Sonntag) um 23:30 Uhr unserer Zeit. Alle Heats "on demand" gibt es HIER