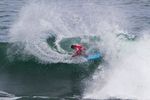 Nachdem es am offiziellen Start des Reef Hawaiian Pro 2013 zu große Wellen an der North Shore gab, ging es letzte Nacht dann mit den ersten Heats los. Bei ordentlichen Wellen in Haleiwa war es ein absolut würdiger Start für die Vans Triple Crown of Surfing 2013, die mit insgesamt $960,000 Preisgeld lockt.
Marco Fernandez aus Brasilien, Yadin Nicol aus Australien, Gabe Kling aus den USA und die Locals Sunny Garcia und Ian Walsh waren die herausstechenden Surfer des Tages. Fernandez war mit einer Wertung von 17.17 der "Top Scorer" des Tages. "I like the bigger waves and I usually surf at Sunset because it's close to my house, but the waves were very good here at Haleiwa today and I had a good heat. It was a great score. I'm ranked number 67, so I need big results here. Maybe a win? That's OK. I'll keep trying." so Fernandez nach seinem Heat
Der mittlerweile 43-jährige Sunny Garcia dominierte nicht nur den offiziellen Contest sondern auch den "REEF Clash of the Legends"
Ian Walsh schaffte es gerade noch trechtzeitg, da er sich die Session in Jaws nicht entgehen lassen wollte.
Mehr Informationen gibt es hier: vanstriplecrownofsurfing.com/reefhawaiianpro2013
Die Ergebnisse:
REEF HAWAIIAN PRO ROUND OF 128 RESULTS:
H1: Thomas Woods (AUS) 13.26pts ; Vicente Romero (ESP) 10.43pts ; Kahokula Kaoliopuuwai (HAW) 9.87pts ; Kahea Hart (HAW) 9.14pts
H2: Seth Moniz (HAW) 10.80pts ; Gony Zubizarreta (ESP) 9.73pts ; Carlos Munoz (CRI) 7.93pts ; Bernardo Miranda (BRA) 7.43pts
H3: Dylan Goodale (HAW) 12.93pts ; Santiago Muniz (ARG) 12.14pts ; Marcus Hickman (HAW) 7.80pts ; Tim Reyes (USA) 6.50pts
H4: Ezekiel Lau (HAW) 11.33pts; Sean Moody (HAW) 10.46pts; Tanner Hendrickson (HAW) 10.44pts; Bino Lopes (BRA) 9.47pts
H5: Sunny Garcia (HAW) 13.70pts ; Billy Stairmand (NZL) 13.44pts ; Frederico Morais (PRT) 10.06pts ; Kevin Sullivan (HAW) 9.43pts
H6: Jack Freestone (AUS) 14.24pts ; Gavin Gillette (HAW) 12.17pts ; Nathaniel Curran (USA) 11.96pts ; Gregg Nakamura (HAW) 10.47pts
H7: Yadin Nicol (AUS) 16.43pts ; Koa Smith (HAW) 12.33pts ; Jean Da Silva (BRA) 11.70pts ; Hizunome Bettero (BRA) 7.44pts
H8: Kai Barger (HAW) 12.84pts ; Ian Gouveia (BRA) 12.33pts ; Chris Ward (USA) 11.66pts ; Hank Gaskell (HAW) 9.30pts
H9: Messias Felix (BRA) 11.96pts ; Evan Valiere (HAW) 11.94pts ; Joel Centeio (HAW) 11.17pts ; Heitor Alves (BRA) 6.40pts
H10: Marco Fernandez (BRA) 17.17pts ; Kaito Ohashi (JPN) 12.73pts ; Isaiah Moniz (HAW) 11.10pts ; Michael Dunphy (USA) 8.95pts
H11: Ian Walsh (HAW) 13.64pts ; Cory Arrambide (USA) 13.20pts ; Ryan Callinan (AUS) 13.03pts ; Olamana Eleogram (HAW) 11.93pts
H12: Nathan Yeomans (USA) 12.94pts ; Ricardo Christie (NZL) 12.93pts ; Kylen Yamakawa (HAW) 8.00pts ; Kalani David (HAW) 7.67pts
H13: Adrien Toyon (FRA) 15.50pts ; Ian Gentil (HAW) 12.33pts ; Steven Pierson (PYF) 14.70pts ; Liam McNamara (HAW) 0.00pts
H14: Garett Parkes (AUS) 12.56pts ; Makai McNamara (HAW) 11.43pts ; Kaimana Jaquias (HAW) 11.17pts ; Davey Cathels (AUS) 11.13pts
H15: Gabe Kling (USA) 16.46pts ; Krystian Kymerson (BRA) 13.70pts ; Torrey Meister (HAW) 11.64pts ; Makuakai Rothman (HAW) 5.86pts
H16: Nic Von Rupp (PRT) 14.17pts ; Alex Smith (HAW) 13.26pts ; Evan Geiselman (USA) 10.60pts; Joshua Moniz (HAW) 7.94pts
Round of 96
H1: Brian Toth (PRI) 16.83pts ;Patrick Gudauskas (USA) 14.93pts ; Thomas Woods (AUS) 7.83pts ; Gony Zubizarreta (ESP) 4.24pts
CLASH OF THE LEGENDS
H1 : Sunny Garcia (HAW) 15.93pts ; Kaipo Jaquias (HAW) 10.00pts ; Michael Ho (HAW) 8.66pts ; Brad Gerlach (USA) 0.00pts
Und nicht vergessen, wir verlosen 20 REEF COOLER Taschen, wenn ihr uns den richtigen Gewinner des Contests vorhersagen könnt. Mehr dazu HIER