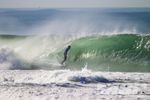 Der erste Tag des Rip Curl Pro Portugal 2013 wurde direkt bei 1 – 1.5m Wellen in Supertubos abgehalten. Die Heats waren zum Teil recht zäh, da die Sets etwas auf sich warten ließen. Matt Wilkinson hatte jedoch bei seinem Heat am Morgen noch Glück und konnte sich mit ein paar netten Barrels vor dem vielleicht baldigen Weltmeister Mick Fanning  und Wildcard Francisco Alves positionieren.
"I knew where I wanted to sit and I was just hoping that the conditions wouldn't change too much. I got a few okay ones at the start and it was kind of scary I saw Mick (Fanning) get a wave before my last one and I thought it might be the score so I didn't know if I was chasing a score or not. That last one, I knew I was deep, I took off and was just pumping as hard as I could cause I really wanted to make it, I was stoked." so Wilko.
Der 16-jährige Trails Gewinner Jacob Willcox sorgte  dann auch gleich mal für Aufsehen, als er in seinem Heat Kelly Slater besiegte und diesen in die "elimination Round 2" schickte. "It was pretty fun out there, I got a couple of good ones. I was stoked to get the opportunity to surf against those guys in the Trials, let alone win so I'm really happy. I got a few waves out here yesterday so I knew the banks pretty well and this is my second time competing in a WCT so I just knew I had to keep calm and it worked out pretty well." so der freche Willcox nach seinem Heat.
Auch John John Florence und Julian Wilson liessen sich von dem immer schlechter werdenden Wellen nicht abhalten und gewannen souverän Ihre ersten Heats. "There's still little barrels out there, it's just a matter of finding them," so Florence.
Heute wurde bereits ein Lay Day ausgerufen und man wird von Tag zu Tag neu entscheiden wann es weitergehen wird. Die Vorhersage wird aber erst Anfang nächster Woche besser.
Mehr Infos hier: www.live.ripcurl.com
RIP CURL PRO PORTUGAL ROUND 1 RESULTS:
Heat 1: Julian Wilson (AUS) 11.34, Fredrick Patacchia (HAW) 4.63, Yadin Nicol (AUS) 4.20
Heat 2: Joel Parkinson (AUS) 11.50, Raoni Monteiro (BRA) 6.53, Brett Simpson (USA) 4.93
Heat 3: Taj Burrow (AUS) 13.00, Travis Logie (ZAF) 7.77, Dillon Perillo (USA) 2.96

Heat 4: Jordy Smith (ZAF) 11.43, Frederico Morais (PRT) 9.16, Bede Durbidge (AUS) 5.90
Heat 5: Jacob Willcox (AUS) 13.07, Kelly Slater (USA) 9.60, Kolohe Andino (USA) 5.50
Heat 6: Matt Wilkinson (AUS) 17.37, Mick Fanning (AUS) 12.60, Francisco Alves (PRT) 7.56
Heat 7: Sebastian Zietz (HAW) 12.77, Michel Bourez (PYF) 12.07, Kieren Perrow (AUS) 3.73
Heat 8: Josh Kerr (AUS) 12.37, Alejo Muniz (BRA) 12.10, Jeremy Flores (FRA) 7.16
Heat 9: Filipe Toledo (BRA) 11.30, Damien Hobgood (USA) 10.50, Adriano De Souza (BRA) 9.83

Heat 10: Kai Otton (AUS) 11.40, Gabriel Medina (BRA) 5.63, Patrick Gudauskas (USA) 5.43

Heat 11: John John Florence (HAW) 13.66, Miguel Pupo (BRA) 13.24, C.J. Hobgood (USA) 2.37

Heat 12: Nat Young (USA) 8.77, Adam Melling (AUS) 7.66, Adrian Buchan (AUS) 6.47
UPCOMING RIP CURL PRO PORTUGAL ROUND 2 MATCH-UPS:
Heat 1: Mick Fanning (AUS) vs. Francisco Alves (PRT)

Heat 2: Kelly Slater (USA) vs. Frederico Morais (PRT)

Heat 3: Michel Bourez (PYF) vs. Dillon Perillo (USA)
Heat 4: Adriano De Souza (BRA) vs. Raoni Monteiro (BRA)
Heat 5: C.J. Hobgood (USA) vs. Yadin Nicol (AUS)
Heat 6: Adrian Buchan (AUS) vs. Kieren Perrow (AUS)
Heat 7: Gabriel Medina (BRA) vs. Alejo Muniz (BRA)

Heat 8: Jeremy Flores (FRA) vs. Damien Hobgood (USA)
Heat 9: Fredrick Patacchia (HAW) vs. Patrick Gudauskas (USA)

Heat 10: Brett Simpson (USA) vs. Miguel Pupo (BRA)
Heat 11: Travis Logie (ZAF) vs. Adam Melling (AUS)
Heat 12: Bede Durbidge (AUS) vs. Kolohe Andino (USA)