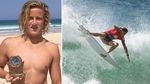 Gestern Abend ereignete sich in Ballina an der Ostküste von Australien erneut eine schwere Hai Attacke.
Der 20-jährige Surf Pro Sam Morgan wurde gegen 18 Uhr am Lighthouse Beach von einem Bullenhai attackiert und schwer verletzt.
"He was the only surfer in the water. A person on the beach heard him scream and saw him stumble out of the water. He has come out of the water with a large bite wound to his left thigh," so der Polizei Inspektor. Er wurde in ein künstliches Koma versetzt, um die schweren Bisswunden operieren zu können. Momentan gibt es noch keine genauen Informationen, wie sein Zustand ist.
Es ist bereits die dritte Attacke an diesem Strand in diesem Jahr und der 14 Unfall in dem Bundesstaat NSW.