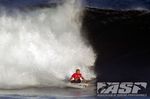 Wir schreiben bereits Tag 3 in Margaret River  in West Australien, dem Austragungsort des Telstra Drug Aware Pro Margaret River 2012.
Perfekte Bedigungen mit 2 Meter Wellen und leichtem Offshore gab den Teilnehmern die Möglichkeit alls zu zeigen was sie in ihrer Trickkiste haben.
Mick Fanning war mit seinem Guten-Morgen-Heat gleich auf 100 und holte sich mit einer 9,70 die höchste Tageswertung. "I was stoked the heat started right when a set came through, I just tried to stick to my game plan and I got lucky that I caught one really sick left. I took off and it had a really good wall. It sort of doubled up and I did one turn and looked back up and there was another section, then finished with a floater. I'm riding a 6'3 DHD, it felt really good out there. It's good to be back in Margaret River."
Auch Kelly Slater liess sich nicht lumpen und dominierte seinen Heat in der "Rounf of 48" mit fetten Turns und Tube-Rides. "The waves were really nice and clean, I got a couple of good waves at the start and was pretty confident I'd make it through the heat no matter what happened. So I just tried to have some fun after that. It's double overhead out there, but I think the swell is dying off tonight and tomorrow, but then the day after tomorrow we will have another big swell."
Der Gewinner in Newcastle, Willian Cardoso, konnte sich auch direkt für die nächste Runde qualifizieren und mal sehen wie lange seine Siegessträhne noch anhält!
Die Heats  "on demand" gibt es HIER
Hier die Ergebnisse:
TELSTRA DRUG AWARE PRO MEN'S ROUND OF 48 ERGEBNISSE:
HEAT 1: Owen Wright (AUS) 16.77, Gabe Kling (USA) 15.46, Jay Quinn (NZL) 14.83, Messias Felix (BRA) 8.60
HEAT 2: Tom Whitaker (AUS) 17.04, Adrian Buchan (AUS) 14.00, Patrick Gudauskas (USA) 9.90, Joan Duru (FRA) 6.16
HEAT 3: Blake Thornton (AUS) 14.27, Mark Occhilupo (AUS) 12.67, Damien Hobgood (USA) 12.46, Jadson Andre (BRA) 4.60
HEAT 4: Josh Kerr (AUS) 16.17, Dion Atkinson (AUS) 13.00, Billy Stairmand (NZL) 6.80, Hizunome Bettero (BRA) 5.90
HEAT 5: Olamana Eleogram (HAW) 14.77, Bede Durbidge (AUS) 11.77, Raoni Monteiro (BRA) 8.57, Tom Innes (AUS) 8.40
HEAT 6: Kelly Slater (USA) 17.76, Fredrick Patacchia (HAW) 16.13, Nathan Yeomans (USA) 13.34, Mitch Crews (AUS) 11.03
HEAT 7: Willian Cardoso (BRA) 12.13, Adam Melling (AUS) 10.83, Granger Larsen (HAW) 9.37, Heath Joske (AUS) 7.70
HEAT 8: Taj Burrow (AUS) 15.46, Kieren Perrow (AUS) 12.50, Brent Dorrington (AUS) 6.72, Charles Martin (GLP) 6.33
HEAT 9: John John Florence (HAW) 16.56, Nic Muscroft (AUS) 12.04, Jack Freestone (AUS) 10.40, Jonathan Gonzalez (CNY) 9.43
HEAT 10: CJ Hobgood (USA) 15.16, Lincoln Taylor (AUS) 12.37, Gony Zubizarreta (ESP) 12.10, Tomas Hermes (BRA) 9.76
HEAT 11: Kolohe Andino (USA) 14.07, Mick Fanning (AUS) 13.04, Chris Friend (AUS) 9.87, Gabriel Villaran (PER) 5.16
HEAT 12: Brian Toth (PRI) 13.53, Kai Otton (AUS) 12.90, Dale Staples (ZAF) 10.34, Caio Ibelli (BRA) 9.67
TELSTRA DRUG AWARE PRO MEN'S ROUND OF 96 ERGEBNISSE:
HEAT 21: Mick Fanning (AUS) 16.67, Brian Toth (PRI) 11.67, Glenn Hall (IRL) 10.83, Garrett Parkes (AUS) 9.67
HEAT 22: Kolohe Andino (USA) 12.34, Dale Staples (ZAF) 11.97, Evan Geiselman (USA) 11.46, Jano Belo (BRA) 6.70
HEAT 23: Kai Otton (AUS) 15.67, Gabriel Villaran (PER) 11.37, Tanner Gudauskas (USA) 11.20, Adrien Toyon (REU) 7.48
HEAT 24: Caio Ibelli (BRA) 12.44, Chris Friend (AUS) 11.74, Romain Cloitre (FRA) 8.77, Mason Ho (HAW) 8.34