Nach Tagen des Wartens ging es letzte Nacht wieder los, in Cloudbreak zum Volcom Fiji Pro 2012. 4-5 Meter grosse Wellen gaben den Surfern die Möglichkeit sich wie wahre Männer zu beweisen.
Einer dieser Kämpfer war Bede Durbidge, der nach seinem Heat folgendes Statement von sich gab: "Those were the biggest most perfect waves I've ever surfed. It was pretty nerve-wracking being first up. We were on and then off and then on again. You have to be prepared to go. I think everyone on tour is more than capable of handling Cloudbreak as big as it gets, we just have to pick our window with the wind. Mello (Adam Melling) was charging out there too so tough luck to him but I'm pumped to get some bombs and get through to Round 3."
Wenn es mit den Wellen so weitergeht wird es heute eine lange Nacht, am besten ab 21:30 Uhr unserer Zeit den LIVESTREAM checken!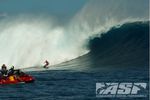 Hier die Ergebnisse:
VOLCOM FIJI PRO REMAINING ROUND 2 RESULTS:
Heat 11: Bede Durbidge (AUS) 15.43 def. Adam Melling (AUS) 14.23
Heat 12: Kai Otton (AUS) 14.33 def. Raoni Monteiro (BRA) 12.34
VOLCOM FIJI PRO ROUND 3 MATCH-UPS:
Heat 1: Taj Burrow (AUS) vs. Bede Durbidge (AUS)
Heat 2: John John Florence (HAW) vs. Adrian Buchan (AUS)
Heat 3: Josh Kerr (AUS) vs. Damien Hobgood (USA)
Heat 4: Mick Fanning (AUS) vs. Tiago Pires (PRT)
Heat 5: Alejo Muniz (BRA) vs. Gabriel Medina (BRA)
Heat 6: Joel Parkinson (AUS) vs. Mitch Coleborn (AUS)
Heat 7: Kelly Slater (USA) vs. Fredrick Patacchia (HAW)
Heat 8: Jeremy Flores (FRA) vs. Heitor Alves (BRA)
Heat 9: Owen Wright (AUS) vs. Brett Simpson (USA)
Heat 10: Jordy Smith (ZAF) vs. C.J. Hobgood (USA)
Heat 11: Julian Wilson (AUS) vs. Miguel Pupo (BRA)
Heat 12: Adriano de Souza (BRA) vs. Kai Otton (AUS)