Wir sind mittlerweile bei Contest Tag 3 des VOLCOM Pipe Pro angekommen. Wie man sich schon hätte denken können war Vorjahressieger Kelly Slater wieder mal nicht zu stoppen. Er überzeugte in den recht wechselhaften Bedingungen und wurde nur von seinem Nachbarn John John Florence in Runde 4 punktmässig überholt. Im Viertelfinale darf er jetzt gegen den 21-jährigen Local Kaimana Jaquias antreten.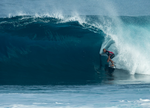 Wer sich fragt was Kelly da für ein seltsames Board surft und wann er endlich aufhört mit dem Wettkampfsurfen, der findet hier sein O-Ton:
"I switched to a little smaller board, this is my Todd Chesser tribute board. It felt really nice, I've actually never ridden the board until just now. It's a little smaller version of what I rode out here last year, I rode a 6'3" bat tail last year and this is a 5'11" bat tail.
"(On why he'd ever retire): Umm… just not having the motivation, I guess would be the thing. Or, wanting to do something else. I had a guy, about a 75-year-old gentleman, come up to me and ask me 'when are you going to stop?' I said, 'when I fall over.'
Wie es aussieht wird heute Abend weiter gesurft. Mehr dazu hier: www.volcompipepro.com