Jeder kennt wahrscheinlich diese zumeist ungemütlich Luftmatratzen, die auch gerne als "Gästebett" bezeichnet werden. Mit zu wenig Luft werden diese zum absoluten Horrorszenario und der Besuch zur Qual. Quinn Kasbar hat dieses ungemütliche Produkt zweckentfremdet und hat sich mittlerweile einen echten Namen als als "Big Wave Matratzen Surfer" gemacht, denn neben seinem neuesten Streich in "The Wedge" war er damit auch schon in Todos Santos unterwegs:
Nun ja, seine Aktion in Kalifornien wurde leider von einer "Kook of the day" Aktion überschattet, da er scheinbar seine Matratze am Strand vergessen hatte: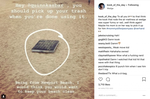 Der Beitrag wurde mittlerweile gelöscht und somit gehen wir davon aus, dass es sich von Quinn nicht um böswillige Stand-Verschmutzung handelte und sich somit die ganze Aktion und wüsten Kommentare in Luft aufgelöst haben.