http://mpora.com/videos/AAdckg57u6h6 
Nach 12 Jahren on Tour hat es Joel Parkinson nun endlich geschafft. Er hat mit dem Sieg der Billabong Pipe Masters 2012 nun endlich auch den ersten Weltmeister Titel geholt. Wirklich ein verdienter Sieg für den Australier. Kelly Slater musste sich im Halbfinale gegen Josh Kerr geschlagen geben und vergab somit die Chancen auf den Titel.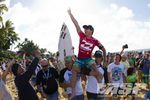 Nach dem packenden Finale Parko vs Kerzy letzte Nacht konnte er seine Freude kaum in Worte fassen:
"Consistency paid off, this is where I wanted to stand at the end of the year. This is what I've worked for my whole life. I can't describe what this feels like. I've had runner-ups and ups-and-downs. I've been to hell and back and it makes this so much sweeter. All the love from Hawaii and Australia and over the world, I can't thank you all enough for supporting me.
Right now, Pipe Master, World Title, it's all surreal, I figured it was going to be a pressure cooker like a few years ago. I knew there was nothing I could do about it. It was about what I had to do, not about what he had to do. I thought, surely he (Slater) has got to peak because he had that heat with Shane (Dorian) and I knew Kerr is a danger man for him. When Kerr got that one, I felt like I was going to physically throw up. I couldn't control my emotions at that point. One day you wake up feeling good the next day you wake up feeling like a loser. This morning I felt like a Champion when I woke up. Like Andy (Irons) always said 'I got this, huh?' I dedicate this to my family, Dad who used to take me to contests when I was 10, my wife and my mom and kids, this is all for us," so Parkinson.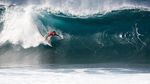 Kelly Slater suchte bei der Siegerehrung nach Erklärungen, wieso es bei ihm mit dem Titel nicht geklappt hat und so bleibt es weiter spannend ob er sein Wettkampfboard an den Nagel hängen wird oder nicht….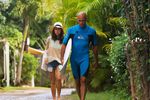 Parkinson's 2012 ASP WCT Results:
Quiksilver Pro Gold Coast: 5th
Rip Curl Pro Bells Beach: 3rd
Billabong Rio Pro: 2nd
Volcom Fiji Pro: 9th
Billabong Pro Tahiti: 2nd
Hurley Pro at Trestles: 2nd
Quiksilver Pro France: 3rd
Rip Curl Pro Portugal: 3rd
O'Neill Coldwater Classic: 5th
Billabong Pipe Masters: WINNER
Hier die Ergebnisse in der Übersicht:
BILLABONG PIPE MASTERS FINAL RESULT:
1 – Joel Parkinson (AUS) 17.17
2 – Josh Kerr (AUS) 14.83
BILLABONG PIPE MASTERS SEMIFINALS RESULTS:
SF 1: Joel Parkinson (AUS) 17.30 def. Damien Hobgood (USA) 14.63
SF 2: Josh Kerr (AUS) 11.13 def. Kelly Slater (USA) 4.90
BILLABONG PIPE MASTERS QUARTERFINALS RESULTS:
QF 1: Damien Hobgood (USA) 9.83 def. Sebastian Zietz (HAW) 9.17
QF 2: Joel Parkinson (AUS) 12.50 def. C.J. Hobgood (USA) 9.40
QF 3: Josh Kerr (AUS) 15.00 def. Yadin Nicol (AUS) 12.17
QF 3: Kelly Slater (USA) 18.73 def. Shane Dorian (HAW) 18.20
BILLABONG PIPE MASTERS ROUND 5 RESULTS:
Heat 1: Damien Hobgood (USA) 8.23 def. Kieren Perrow (AUS) 3.26
Heat 2: C.J. Hobgood (USA) 13.94 def. Dane Reynolds (USA) 8.00
Heat 3: Yadin Nicol (AUS) 13.00 def. Gabriel Medina (BRA) 12.00
Heat 4: Kelly Slater (USA) 19.27 def. Miguel Pupo (BRA) 10.66
BILLABONG PIPE MASTERS ROUND 4 RESULTS:
Heat 3: Josh Kerr (AUS) 14.57, Gabriel Medina (BRA) 14.10, Kelly Slater (USA) 8.10
Heat 4: Shane Dorian (HAW) 6.53, Miguel Pupo (BRA) 5.83, Yadin Nicol (AUS) 4.23
2012 ASP WCT Top 5:
1 – Joel Parkinson (AUS) 58,700 pts
2 – Kelly Slater (USA) 55,450 pts
3 – Mick Fanning (AUS) 47,000 pts
4 – John John Florence (HAW) 44,350 pts
5 – Adriano de Souza (BRA) 42,350 pts