Unglaublich aber wahr. G-Land ist zurück.
Noch gut erinnern wir uns an die Highlight-Filme der damaligen Quik Pro Contests, die wir noch als VHS Kassetten irgendwo in unserem Archiv herumfliegen haben. Die perfekte Linke mitten im Dschungel. Zu gut um wahr zu sein. Fast 30 Jahre später ist der Stopp zurück auf dem WSL Kalender und die Vorfreude entsprechend groß.
Der Stopp No. 6 auf der World Surf League (WSL) 2022 Championship Tour (CT) ist auch der erste Contest mach dem "Mid-season Cut". Somit sind nur noch 36 Surfer:innen im Rennen um den diesjährigen Titel.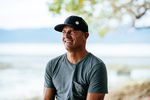 Es wird nochmal richtig spannend, denn auch Kelly Slater gibt sich nach seinem Sieg im Jahr 1995 wieder die Ehre. Er wird versuchen sich von seinem 13. Platz in die Top 5 zu surfen, die dann bei den Rip Curl Finals aufeinander treffen werden.
"This is the place where the concept of a 'Dream Tour' was kind of conceived for us back in the day. It's was the first event where we went fully remote in the search for perfect waves and felt like we were on a surf trip or an adventure where there happens to be a contest, and not much has changed. It feels really cool to be back and see some of the changes from all of those years ago. I'm not sure what the waves will end up being like this week, but it will be hard to beat a goofy-footer out here, or someone like John John (Florence), a dream scenario for me would be to beat John in the Semifinals then take on Gabby (Medina) in the Final–we'll see." so Kelly.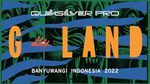 Nach seinem dritten World Titel 2021 hat sich Gabriel Medina (BRA) eine kleine Pause gegönnt und wird sich nun aber in Indo wieder ins Wettkampf-Jersey schmeissen. Er ist von seinen Kontrahenten in den vorherrschenden Bedingungen sehr gefürchtet, denn gerade linke Reef Breaks wie in Tahiti, Fiji, oder Hawaii liegen dem Brasilianer.
"It feels good to be back and ready to compete. To be honest, it felt strange watching everyone compete at the first five events and me not be there; I've never experienced that feeling. It's cool to make my return at this place as well, I've only surfed here once but have always heard so much about it so it is going to be an incredible experience to compete here. The waves remind me a lot of Fiji but we are in the jungle. It's going to be a really incredible week." so Gabe.