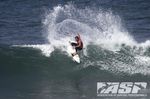 Nach der etwas überraschend schlechten Leistung von Taj Burrow in Runde eins, war er letzte Nacht wie ausgewechselt und sicherte sich einen Platz in der nächsten Runde. "That was a lot of fun," so Taj Burrow  "I actually don't mind surfing Round 2 as it's another opportunity to get some waves and test out some equipment. I just didn't feel like I got in a rhythm yesterday and it feels great to iron out the kinks today and stoked to get through to Round 3."
John John Florence, der durch die Halbjahres-Rotation in der letzten Saison bei den ASP Top 34 mit dabei ist, war auch in Bells nicht zu stoppen. Erst sein Sieg in Sunset, gefolgt von dem 5-Star Event in Pipeline und den Sieg in Margaret River letzte Woche. Es könnte eine gute Saison werden für den Blondschopf aus Hawaii.
Auch Jungspund Gabriel Medina versägte den über doppelt so alten Tylor Knox in den cleanen Wellen von Bells Beach. "Taylor (Knox) is one of my favourite surfers and he is one of the better surfers out at Bells,I just focus on my own surfing and I was trying to put together some good rides on my backhand. I tried to mix it up and show as much variety as I could." so Medina nach seinem Heat.
Weiterer Hingucker letzte Nacht war der full-rotation Air von Yadin Nicol mit dem er die höchste Einzelwertung des Tages erzielen konnte.
Stephanie Gilmore war auch wieder fit in der Runde 2 und konnte sich gegen die Wildcard Gewinnerin Nikki Van Dijk durchsetzen. Steph: "I actually felt like I surfed the conditions well yesterday but there weren't a whole lot of waves, when it's one-on-one out there, like today, it's a bit more even-handed and I was able to surf the way I wanted. I don't feel like I put in an amazing heat, but I did enough to get the win and hopefully I'm pacing myself for a better showing in the later rounds."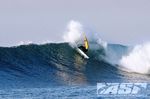 Alle Ergebnisse des 2. Tages:
REMAININING RIP CURL PRO BELLS BEACH ROUND 1 RESULTS:
Heat 10: Damien Hobgood (USA) 14.40, C.J. Hobgood (USA) 11.54, Michel Bourez (PYF) 10.97
Heat 11: John John Florence (HAW) 16.26, Alejo Muniz (BRA) 13.57, Tiago Pires (PRT) 11.20
Heat 12: Matt Wilkinson (AUS) 10.67, Miguel Pupo (BRA) 9.53, Heitor Alves (BRA) 6.66
RIP CURL PRO BELLS BEACH ROUND 2 RESULTS:
Heat 1: Taj Burrow (AUS) 17.53 def. Davey Cathels (AUS) 11.17
Heat 2: Kai Otton (AUS) 16.90 def. Julian Wilson (AUS) 13.10
Heat 3: Gabriel Medina (BRA) 12.66 def. Taylor Knox (USA) 9.03
Heat 4: Josh Kerr (AUS) 16.10 def. Patrick Gudauskas (USA) 15.30
Heat 5: Fredrick Patacchia (HAW) 11.59 def. Michel Bourez (PYF) 11.34
Heat 6: Yadin Nicol (AUS) 17.70 def. Alejo Muniz (BRA) 12.16
Heat 7: Jadson Andre (BRA) 16.93 def. Heitor Alves (BRA) 13.96
Heat 8: C.J. Hobgood (USA) 13.60 def. Miguel Pupo (BRA) 13.00
Heat 9: Tiago Pires (PRT) 14.93 def. Adrian Buchan (AUS) 13.30
Heat 10: Brett Simpson (USA) 13.77 def. Kieren Perrow (AUS) 11.67
Heat 11: Bede Durbidge (AUS) 16.33 def. Kolohe Andino (USA) 13.50
Heat 12: Raoni Monteiro (BRA) 14.77 def. Adam Melling (AUS) 12.83
RIP CURL PRO BELLS BEACH ROUND 3 MATCH-UPS:
Heat 1: Adriano de Souza (BRA) vs. Yadin Nicol (AUS)
Heat 2: John John Florence (HAW) vs. Matt Wilkinson (AUS)
Heat 3: Owen Wright (AUS) vs. Jadson Andre (BRA)
Heat 4: Josh Kerr (AUS) vs. Tiago Pires (PRT)
Heat 5: Jeremy Flores (FRA) vs. Bede Durbidge (AUS)
Heat 6: Kelly Slater (USA) vs. Nic Muscroft (AUS)
Heat 7: Taj Burrow (AUS) vs. Kai Otton (AUS)
Heat 8: Mick Fanning (AUS) vs. Raoni Monteiro (BRA)
Heat 9: Gabriel Medina (BRA) vs. C.J. Hobgood (USA)
Heat 10: Jordy Smith (ZAF) vs. Travis Logie (ZAF)
Heat 11: Damien Hobgood (USA) vs. Brett Simpson (USA)
Heat 12: Joel Parkinson (AUS) vs. Fredrick Patacchia (HAW)
RIP CURL WOMEN'S PRO BELLS BEACH ROUND 2 RESULTS:
Heat 1: Coco Ho (HAW) 14.66 def. Rebecca Woods (AUS) 11.74
Heat 2: Malia Manuel (HAW) 14.87 def. Jacqueline Silva (BRA) 6.67
Heat 3: Stephanie Gilmore (AUS) 13.33 def. Nikki Van Dijk (AUS) 11.23
Heat 4: Sofia Mulanovich (PER) 13.27 def. Justine Dupont (FRA) 11.64
Heat 5: Paige Hareb (NZL) 14.00 def. Sage Erickson (USA) 12.17
Heat 6: Sarah Mason (NZL) 17.34 def. Pauline Ado (FRA) 12.20
RIP CURL WOMEN'S PRO BELLS BEACH ROUND 3 MATCH-UPS:
Heat 1: Tyler Wright (AUS), Laura Enever (AUS), Sarah Mason (NZL)
Heat 2: Stephanie Gilmore (AUS), Paige Hareb (NZL), Malia Manuel (HAW)
Heat 3: Carissa Moore (HAW), Sofia Mulanovich (PER), Coco Ho (HAW)
Heat 4: Sally Fitzgibbons (AUS), Courtney Conlogue (USA), Lakey Peterson (USA)
Und nicht vergessen Livestream zu checken: