Es ist soweit. Es gibt "Green Alert" für die Jaws Challenge in Pe'ahi für den heutigen Montag. Um 7:30 Uhr lokaler Zeit (18:30 Uhr unserer Zeit) soll der Startschuss fallen.
"We are all systems go for the Jaws Challenge at Pe'ahi to run on Monday, November 26. We have officially issued a Green Alert and the competitors are all gearing up for the second Big Wave stop of the season. The swell is looking in the 35-to-45-foot face range and we are excited for the world's best big wave surfers to put on a show for the world." so Mike Parsons, WSL BWT Commissioner.
Auch Grant "Twiggy" Baker wird nach seinem Sieg in Nazaré antreten und seine Position verteidigen, wie auch Paige Alms und Ian Walsh, die auf Maui bereits siegen konnten.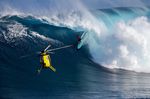 Starterliste 2018/2019 Jaws Challenge in Pe'ahi, Hawaii 
Women's Invitees: Paige Alms, Keala Kennelly, Justine Dupont, Bianca Valenti, Maya Gabeira, Andrea Moller, Felicity Palmateer, Emily Erickson, Jamilah Star, WSL BWT Commissioner Selection TBD
Women's Event Alternates: Nicole Pacelli, Isabelle Leonhardt, Raquel Heckert
Men's Invitees: Billy Kemper, Kai Lenny, Ian Walsh, Makuakai Rothman, Lucas Chianca, Jamie Mitchell, Tom Lowe, Alex Botelho, Greg Long, Natxo Gonzalez, Will Skudin, Grant Baker, Nathan Florence, Jojo Roper, Russell Bierke, Shane Dorian, Albee Layer, Mark Healey, Aaron Gold, Francisco Porcella, Tyler Larronde, Three WSL BWT Invitees TBD by WSL BWT Commissioner
Men's Event Alternates: Ryan Hipwood, Danilo Couto, Yuri Soledade, DK Walsh
LVESTREAM:
Die WSL Jaws Challenge wird LIVE auf WSL's Facebook page & WorldSurfLeague.com übertragen.