Rachel Presti ist tatsächlich nicht zu stoppen. Wie wir nach dem Sieg des Junior Pro
Espinho schon prophezeit haben, setzte sich ihre Siegessträhne auch beim
Caparica Surf Fest weiter fort.
In sauberen Wellen konnte sich die Deutsche neben dem Franzosen Kauli Vaast somit über den zweiten Sieg in Portugal freuen. Im Finale musste sie sich gegen Local Mafalda Lopes beweisen, die es ihr nicht leicht machte und den Spot wie keine andere kennt. Nach einem ziemlich ausgeglichenen hin & her schaffte es Rachel mit einer Linkswelle eine super Score von 8.67 zu erzielen und ließ so ihrer Konkurrentin keine Chance. Zwei Siege in nur einer Woche kann sich wirklich sehen lassen.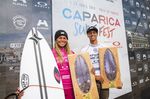 "I'm super happy, of course this is what we all strive for so it's great when it's happens. I had good scoring heats and waves were super rippable today so it was fun! I really tried to find a better back up and had a couple bad waves before finally I found that good left and I was happy to make it like that." so Rachel nach dem Sieg gegenüber der WSL.