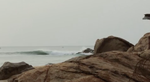 Sri Lanka und vor allem Arugam Bay  sind mittlerweile extrem populäre Reisedestinationen geworden. Gerade für Anfänger sind die Spots an der Ostküste ideal. Das kleine Paradies wurde kürzlich jedoch durch eine Krokodil Attacke erschüttert.
Ein 24-jähriger britischer Journalist der Financial Times wurde laut Augenzeugen von einem Krokodil in der Lagune hinter dem beliebten Spot "Elephant Rock" attackiert und unter Wasser gezogen. Der Unfall ereignete sich, als sich der Surfer vom Strand entfernte, um auf die Toilette zu gehen. Beim Händewaschen in der Lagune wurde er dann erwischt. Das Opfer hatte in Elephant Rock einen Surfkurs gemacht, als der Unfall am Donnerstag Nachmittag geschah.
"He went in the jungle, about 800 metres. It was when he was washing his hands that the crocodile took him. There is a river connected to Elephant Rock, and he went in the river. They can't do anything because the river is deep and murky, it is not very clear. They have sent out the navy, army and the task force." so Fawas Lafeer, der Besitzer der Safa Surf School.
Das ist der erste Vorfall dieser Art in Sri Lanka, denn zumeist halten sich die Krokodile im Hinterland auf, da sie das Salzwasser scheuen.
Das Opfer wurde erst als vermisst gemeldet und konnte erst einen Tag später im Schlamm geborgen werden. "There were six or seven wounds on his right leg. The body was stuck in mud at about the same place where he was seen last by some others who were with him." so ein Sprecher der örtlichen Polizei.