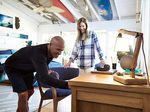 Kurz nach seinem 10 Punkte Run beim Pipe Pro sorgt Kelly Slater jetzt wieder für Aufsehen, nachdem bekannt wurde, dass er von einer Möbelfirma namens PBteen beauftragt wurde ein Art "Bio" Linie zu designen. Bestehend aus 40 Teilen sollen nur Recycle- und Öko Materialien verwendet werden.
I'm really excited to be working with PBteen on this project,while they're not part of the endemic surf market, I'm honored that PBteen has seen me as someone who can help a broader audience understand the need to use recycled, repurposed and organic materials
Die "Kelly Slater for PBteen collection" kommt im April diesen Jahres auf den Markt und wir sind gespannt, ob wir auch in Europa in den Genuss kommen werden.
Immerhin hat er neben seine Anteilen bei FireWire noch seine Eco Brand OuterKnown, und seinen Enery Dring "Purps", falls seine Möbeledition floppen sollte.