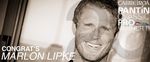 Es war ein grosser Tag für Marlon Lipke als er vor einer riesigen Menschenmenge seinen Sieg in Galizien beim Pantin Classic Pro 2012 feiern konnte. Im Finale gewann er gegen den Franzosen Joan Duru, Bino Lopes und Ty Watson!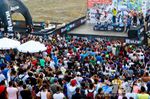 Die Bedingungen waren mit 4-5 Fuss perfekt und trotz Schmerzen in der Schulter gab Marlon alles und wurde verdienter Sieger! Marlon gegenüber ASP Europe: "I'm just so happy at this stage of my career to have another win, two this year after the 3-Star in Vendee. You know sometimes things happen in life which kind of put your mind right and put things in perspective and sometimes you fight harder for things, that's what I did here so I'm super happy to come out with the win !"
Der Sieg in Vendee zu Beginn der Saison, der 5. Platz in Pro Zarautz und nun der Sieg in Pantin brachten Marlon auf den ersten Platz des ASP Europe Rankings.
Hier die Ergebnisse:
CABREIROA PANTIN CLASSIC PRO MEN'S FINAL RESULTS:
1 – Marlon Lipke (DEU) 13.66
2 – Joan Duru (FRA) 9.04
3 – Bino Lopes (BRA) 8.57
4 – Ty Watson (AUS) 6.76
CABREIROA PANTIN CLASSIC PRO MEN'S SEMI-FINALS RESULTS:
Heat 1: Bino Lopes (BRA) 15.37, Joan Duru (FRA) 12.13, Connor O'Leary (AUS) 10.70, Steven Pierson (PYF) 10.47
Heat 2: Marlon Lipke (DEU) 15.50, Ty Watson (AUS) 14.20, Jonathan Gonzalez (CNY) 13.10, Nathan Hedge (AUS) 9.27
CABREIROA PANTIN CLASSIC PRO MEN'S QUARTER-FINALS RESULTS:
Heat 1: Joan Duru (FRA) 16.00, Bino Lopes (BRA) 13.96, Medi Veminardi (REU) 11.70, Nic Von Rupp (DEU) 9.33
Heat 2: Connor O'Leary (AUS) 15.06, Steven Pierson (PYF) 11.57, Adrien Valero (FRA) 10.60, Vincent Duvignac (FRA) 10.13
Heat 3: Jonathan Gonzalez (CNY) 14.16, Ty Watson (AUS) 14.10, Charles Martin (GLP) 12.87, Teppei Tajima (JPN) 9.00
Heat 4: Marlon Lipke (DEU) 13.43, Nathan Hedge (AUS) 11.80, Adrien Toyon (FRA) 11.77, Noah Erickson (USA) 6.60
CABREIROA PANTIN CLASSIC PRO MEN'S ROUND OF 32 RESULTS:
Heat 1: Nic Von Rupp (DEU) 11.10, Connor O'Leary (AUS) 10.83, Manuel Selman (CHL) 7.80, Jordin Watson (AUS) 7.70
Heat 2: Medi Veminardi (REU) 14.33, Steven Pierson (PYF) 13.00, Thomas Woods (AUS) 11.46, Francisco Alves (PRT) 8.53
Heat 3: Adrien Valero (FRA) 14.17, Bino Lopes (BRA) 11.10, Messias Felix (BRA) 9.54, Nobuyuki Osawa (JPN) 6.93
Heat 4: Vincent Duvignac (FRA) 15.54, Joan Duru (FRA) 13.17, Jatyr Berasaluce (EUK) 4.77, Gony Zubizarreta (ESP) 4.60
Heat 5: Ty Watson (AUS) 14.53, Noah Erickson (USA) 10.43, Alan Donato (BRA) 9.23, Carlo Zapata (PER) 8.54
Heat 6: Charles Martin (GLP) 12.83, Nathan Hedge (AUS) 12.66, Leonardo Neves (BRA) 10.40, David Van Zyl (ZAF) 9.26
Heat 7: Adrien Toyon (FRA) 12.67, Teppei Tajima (JPN) 12.60, David Do Carmo (BRA) 10.50, Eneko Acero (EUK) 7.36
Heat 8: Marlon Lipke (DEU) 14.33, Jonathan Gonzalez (CNY) 14.10, Leandro Usuna (ARG) 13.93, Ian Gouveia (BRA) 9.17