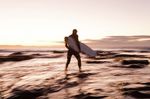 Nach einen turbultenen Jahr hat Mick Fanning entschlossen 2016 eine kleine Auszeit zu nehmen.
Er wird zwar in Snapper und Bells starten, aber dann erstmal eine Pause machen, um sein Leben neu zu strukturieren. Neben dem Rennen um den nächsten Weltmeistertitel waren die Ereignisse in J-Bay, der Verlust von seinem Bruder in seiner Abwesendheit und die Trennung von seiner Frau sehr belastend für ihn und dies gilt es jetzt erstmal zu verarbeiten.
Dennoch möchte er nach J-Bay zurückkehren um hier sein Schockerlebenis nach der Hai Attacke abzuschließen.
"I want to go back to J-Bay- I feel like there's something there that I want to go and face. I want to make sure that I scratch that off the list. I think the main thing will be that first surf. I probably won't be getting up at dark and getting out there before the sun gets up anymore. I think it's more about jumping in and surfing once or twice and then I'll be fine. It's the same thing as when I came back and surfed Snapper for the first time. You're a little bit wary and it's in the back of your mind, but you get to a point where you start to feel comfortable again. If I go and do that event, there are going to be a lot of eyes on me. A lot of people will be seeing what reaction I'll have. I don't think I'll be paddling out early for heats, but I think after a surf or two, I'll feel fine." so Mick Fanning im Interview.
Eine wohlverdiente Pause nach 15 Jahren Surfzirkus. Wir wünschen ihm alles Gute und freuen uns auf weitere spannende Momente mit Master Mick. Wie beispielsweise diese hier: surfersmag.de/video/nobody-does-it-like-mick-fanning.html