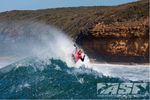 Auch Tag 3, für uns Nacht 3, liess sich nicht lumpen. Auch an diesem Tag war der Titelverteidiger Joel Parkinson der dominierende Surfer. Mit seinem lässigen Style versägte er in Runde 3 den Hawaiianer Fredrick Patacchia und in Runde 4 Jordy Smith und Brett Simpson. Dafür gab es dann auch prompt den "Rip Curl Pro Gold Pass"


– "It's an honor, when you look at the list of people who have received this award, you see it's one of those rare things in surfing. It's a huge achievement. You just have to love Bells. It can be a real hard wave to surf and a real tricky wave. No matter how good you are out there, you can get stuck. You just have to pick a good line and timing is absolutely essential." Für ihn geht es nun direkt ins Viertelfinale.
Kelly Slater macht es in diesem Event richtig spannend, denn durch ein gebrochenes Surfboard in Runde 3 wurde es wieder eine knappe Geschichte gegen den Wildcard Gewinner Nic Muscroft. Kelly nach dem Heat: "Just to finish that wave I was happy. I thought, if Nic (Muscroft) won then great. We've had great heats over the years. That was one that was a full battle back and forth mentally. Nic got cleaned up by 20 waves and the sets stopped when he got out and then he broke his board and I didn't capitalize on those sets. I hadn't finished a good one midway through the heat and then he came back really well. I never had any great waves overall. Luckily I got one with about 8 seconds left. I had the carve to start and it went a little dead until the end. The lip launched me perfectly in the air and had a good cushion to land on. I thought it'd be close either way. I would have been stoked for him, he's such a good guy and obviously everyone's pulling for him."
Auch für Mick Fanning ging es in kleinen Schritten weiter Richtung Treppchen, denn auch er kann sich durch seinen Sieg in Runde 3 und 4 auf den Einzug ins Viertelfinale freuen.
Für Taj Burrow war in Runde 3 gegen Kai Otton leider Schluss. Mit einer kläglichen 6.54 Wertung konnte er sich nicht gegen seinen Landsmann durchsetzen.
Bei den Damen konnte die Runde 3 eingeläutet werden und Malia Manuel darf sich bereits über den Einzug in Viertefinale freuen, nchdem sie sich gegen Stephanie Gilmore und Paige Hareb beweisen konnte. "I think it was mostly the waves we had that helped me through the heat," so Manuel. "The heat before had a lot of waves so I thought ours wouldn't have many but it just kept pumping. I had to throw everything I had into it and it feels great to come away with the win. It's always nice to surf against Steph (Gilmore). She's one of my heroes. It's always a pleasure to surf against her here."
Auch Carissa Moore zieht direkt weiter ins Viertelfinale. "I would love a big bell. I think we're all really excited that the waves are so good this year and it doesn't look like it's going to slow down. So hopefully we continue to score great conditions and have a good finish."
Hier die Übersicht:
RIP CURL PRO BELLS BEACH ROUND 3 RESULTS:
Heat 1: Adriano de Souza (BRA) 12.33 def. Yadin Nicol (AUS) 9.60
Heat 2: John John Florence (HAW) 13.97 def. Matt Wilkinson (AUS) 9.63
Heat 3: Owen Wright (AUS) 13.77 def. Jadson Andre (BRA) 7.17
Heat 4: Josh Kerr (AUS) 15.17 def. Tiago Pires (PRT) 9.07
Heat 5: Jeremy Flores (FRA) 14.10 def. Bede Durbidge (AUS) 12.83
Heat 6: Kelly Slater (USA) 17.00 def. Nic Muscroft (AUS) 16.30
Heat 7: Kai Otton (AUS) 11.83 def. Taj Burrow (AUS) 6.54
Heat 8: Mick Fanning (AUS) 18.46 def. Raoni Monteiro (BRA) 15.20
Heat 9: C.J. Hobgood (USA) 16.70 def. Gabriel Medina (BRA) 15.60
Heat 10: Jordy Smith (ZAF) 15.43 def. Travis Logie (ZAF) 10.96
Heat 11: Brett Simpson (USA) 15.54 def. Damien Hobgood (USA) 12.53
Heat 12: Joel Parkinson (AUS) 18.94 def. Fredrick Patacchia (HAW) 17.37
RIP CURL PRO BELLS BEACH ROUND 4 RESULTS:
Heat 1: Owen Wright (AUS) 15.87, John John Florence (HAW) 15.00, Adriano de Souza (BRA) 14.93
Heat 2: Kelly Slater (USA) 18.50, Josh Kerr (AUS) 13.10, Jeremy Flores (FRA) 9.64
Heat 3: Mick Fanning (AUS) 18.20, C.J. Hobgood (USA) 10.83, Kai Otton (AUS) 10.33
Heat 4: Joel Parkinson (AUS) 17.27, Jordy Smith (ZAF) 15.60, Brett Simpson (USA) 7.00
RIP CURL PRO BELLS BEACH ROUND 5 MATCH-UPS:
Heat 1: John John Florence (HAW) vs. Jeremy Flores (FRA)
Heat 2: Josh Kerr (AUS) vs. Adriano de Souza (BRA)
Heat 3: Kai Otton (AUS) vs. Brett Simpson (USA)
Heat 4: Jordy Smith (ZAF) vs. C.J. Hobgood (USA)
RIP CURL PRO BELLS BEACH QUARTERFINAL MATCH-UPS:
QF 1: Owen Wright (AUS) vs. TBD
QF 2: Kelly Slater (USA) vs. TBD
QF 3: Mick Fanning (AUS) vs. TBD
QF 4: Joel Parkinson (AUS) vs. TBD
RIP CURL WOMEN'S PRO BELLS BEACH ROUND 3 RESULTS:
Heat 1: Tyler Wright (AUS) 16.74, , Sarah Mason (NZL) 14.50, Laura Enever (AUS) 14.00
Heat 2: Malia Manuel (HAW) 18.30, Stephanie Gilmore (AUS) 17.50, Paige Hareb (NZL) 10.34
Heat 3: Carissa Moore (HAW) 17.94, , Coco Ho (HAW) 12.60, Sofia Mulanovich (PER) 5.86
Heat 4: Sally Fitzgibbons (AUS) 15.90, Lakey Peterson (USA) 15.20, Courtney Conlogue (USA) 14.93
RIP CURL WOMEN'S PRO BELLS BEACH ROUND 4 MATCH-UPS:
Heat 1: Sarah Mason (NZL) vs. Paige Hareb (NZL)
Heat 2: Stephanie Gilmore (AUS) vs. Laura Enever (AUS)
Heat 3: Coco Ho (HAW) vs. Courtney Conlogue (USA)
Heat 4: Lakey Peterson (USA) vs. Sofia Mulanovich (PER)
RIP CURL WOMEN'S PRO BELLS BEACH QUARTERFINAL MATCH-UPS:
QF 1: Tyler Wright (AUS) vs. TBD
QF 2: Malia Manuel (HAW) vs. TBD
QF 3: Carissa Moore (HAW) vs. TBD
QF 4: Sally Fitzgibbons (AUS) vs. TBD