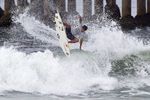 Der Power Surfer Michel Bourez hat keine Angst vor großen Namen.
Das bewies er erneut am vergangenen Tag der VANS US OPEN OF SURFING 2013 als er in "Round of 24" King Kelly aus dem Contest schmiss. "I knew he was going to try to put a show on and do some big airs, I saw him trying to look for the rights and my goal was to catch a few lefts first. Then I got that right and tried that air, so that was the good one for me. I saw Kelly from behind on that last wave and he did five or six turns and the wave was really tiny. I heard the crowd cheer and thought maybe I made a mistake." Kelly versuchte in den finalen Minuten den Spieß noch zu wenden, aber leider versagten seine magischen Rituale um den Wellengott zu beschwören.
Julian Wilson war auch nicht zu stoppen und setzte sich souverän gegen das "darkhorse" Alex Ribeiro aus Brasilien durch. "Surfing against a guy like Alex is always dangerous because he didn't have much to lose. I was able to do a few backside turns put scores on the board and push him enough to fall on those backside airs. He came close on one and it could have turned the heat, but it was nice to build some momentum after a close loss yesterday. Today is a little bigger with some corners and the conditions are fun." so Julian
Für Jadson Andre war es ein leichtes Spiel gegen den verletzen Seabass zu gewinnen, der sich bei einem Air in den Fuß verknaxte.
Für den Euro-Ripper Hodei Collazo war es ein großer Tag als er gegen den "old dog" C.J. Hobgood gewann. "That was really close. C.J. started with a 6.6 and a 5.5 and I tried to be patient and wait for the best waves. Luckily I had priority at the end and I was able to get the score. I tried to push hard on my turns and I knew it was going to be close." so Hodei
Bei den Damen war es Laura Enever die für Aufsehen sorgte als sie Steph Gilmore in Runde 4 besiegte und somit im Viertelfinale gegen Courtney Conlogue ran muss.
Für die Vorjahressiegerin Lakey Peterson war es nach dem  Heat gegen Carissa Moore leider vorbei, genauso wie für Alana Blanchard.
Weiter geht es mit Runde 5 bei den Männern und Viertelfinale der Damen: http://www.usopenofsurfing.com/surf/
VANS US OPEN OF SURFING WOMEN'S ROUND 4 RESULTS:
Heat 1: Laura Enever (AUS) 12.46 def. Stephanie Gilmore (AUS) 11.23
Heat 2: Bianca Buitendag (ZAF) 12.54 def. Silvana Lima (BRA) 11.10
Heat 3: Carissa Moore (HAW) 14.74 def. Lakey Peterson (USA) 13.87
Heat 4: Pauline Ado (FRA) 14.50 def. Alana Blanchard (HAW) 11.93
VANS US OPEN OF SURFING WOMEN'S QUARTERFINALS MATCH UPS:
Heat 1: Courtney Conlogue (USA) vs. Laura Enever (AUS)
Heat 2: Tyler Wright (AUS) vs. Bianca Buitendag (ZAF)
Heat 3: Coco Ho (HAW) vs. Carissa Moore (HAW)
Heat 4: Sally Fitzgibbons (AUS) vs. Pauline Ado (FRA)
VANS US OPEN OF SURFING ROUND OF 24 RESULTS:
Heat 1: Jadson Andre (BRA) 15.00 def. Sebastian Zietz (HAW) 8.00
Heat 2: Julian Wilson (AUS) 15.93 def. Alex Ribeiro (BRA) 8.86
Heat 3: Bede Durbidge (AUS) 12.10 def. Miguel Pupo (BRA) 6.17
Heat 4: Michel Bourez (PYF) 11.80 def. Kelly Slater (USA) 11.54
Heat 5: Hodei Collazo (EUK) 12.80 def. C.J. Hobgood (USA) 12.50
Heat 6: Matt Banting (AUS) 13.33 def. Ramzi Boukhiam (MAR) 11.43
Heat 7: Nat Young (USA) 15.16 def. Charles Martin (GLP) 11.40
Heat 8: Mitch Crews (AUS) 15.27 def. Beyrick De Vries (ZAF) 12.84
UPCOMING VANS US OPEN OF SURFING ROUND OF 16 MATCH UPS:
Heat 1: Adriano de Souza (BRA) vs. Jadson Andre (BRA)
Heat 2: Kolohe Andino (USA) vs. Julian Wilson (AUS)
Heat 3: Vincent Duvignac (FRA) vs. Bede Durbidge (AUS)
Heat 4: Adrian Buchan (AUS) vs. Michel Bourez (PYF)
Heat 5: Jordy Smith (ZAF) vs. Hodei Collazo (EUK)
Heat 6: Granger Larsen (HAW) vs. Matt Banting (AUS)
Heat 7: Marc Lacomare (FRA) vs. Nat Young (USA)
Heat 8: Alejo Muniz (BRA) vs. Mitch Crews (AUS)