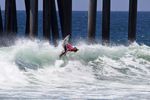 Bei dem 6. Stopp auf der Women's ASP World Championship Tour, den VANS US Open of Surfing 2013, wurde letzte Nacht die komplette Runde 1 in netten 1 Meter Wellen von Huntington Beach durchgezogen.
Am meisten Wirbel verbreitete die Brasilianerin Silvana Lima, die Steph Gilmore und Bianca Buitendag ziemlich in die Schranken wies. "I feel really good, this is my best Round 1 result and usually I have to surf in Round 2 here in Huntington. I'm happy to skip that round 2. I've had a tough year, but I'm feeling really good and it's nice to have some waves. Hopefully I can keep going." so Lima nach ihrem Heat.
Auch Alana Blanchard bewies mal wieder, dass sie ihr Popöchen auch in den Wellen gut bewegen kann und gewann gegen die momentane Nr-1 Tyler Wright und Wildcard-Gewinnerin Leila Hurst. "Competing here is amazing and I love the support from the fans, it makes the event that much more fun. I always want to surf my best and I try not to really think about the crowd. Coming in to this event, I'm just trying not to think about the ratings. I usually do better when I'm having fun with it all." so Alana.
Auch die Gewinnerin von 2011 Sally Fitzgibbons und Carissa Moore dominierten ihren Heats und freuen sich auf den Einzug in Runde 3.
Der Local Courtney Conlogue hatte die Fans hinter sich und demonstrierte eindrucksvoll wie man in "ihren" Wellen am besten performt, was Laura Enever jedoch ziemlich ausbremste.
Auch bei den Männern ging es weiter mit den restlichen Heats aus Runde 1 und Runde 2. Hier war Julian Wilson der Held des Strandes, als er einen fetten Backside Air-Rotation stand und eine 9,83 dafür scorte.
Hier alle Ergebnisse:
VANS US OPEN OF SURFING WOMEN'S ROUND 1 RESULTS:
Heat 1: Silvana Lima (BRA) 13.00, Stephanie Gilmore (AUS) 10.44, Bianca Buitendag (ZAF) 6.67
Heat 2: Courtney Conlogue (USA) 14.46, Rebecca Woods (AUS) 10.44, Laura Enever (AUS) 9.36
Heat 3: Alana Blanchard (HAW) 12.43, Tyler Wright (AUS) 11.90, Leila Hurst (HAW) 9.54
Heat 4: Carissa Moore (HAW) 15.87, Sofia Mulanovich (PER) 13.93, Paige Hareb (NZL) 10.43
Heat 5: Sally Fitzgibbons (AUS) 16.70, Malia Manuel (HAW) 14.10, Sage Erickson (USA) 12.27
Heat 6: Pauline Ado (FRA) 15.33, Coco Ho (HAW) 10.60, Lakey Peterson (AUS) 10.27

UPCOMING WOMEN'S VANS US OPEN OF SURFING ROUND 2 MATCH UPS:
Heat 1: Bianca Buitendag (ZAF) vs. Paige Hareb (NZL)
Heat 2: Coco Ho (HAW) vs. Rebecca Woods (AUS)
Heat 3: Tyler Wright (AUS) vs. Leila Hurst (HAW)
Heat 4: Stephanie Gilmore (AUS) vs. Sofia Mulanovich (PER)
Heat 5: Lakey Peterson (USA) vs. Sage Erickson (USA)
Heat 6: Laura Enever (AUS) vs. Malia Manuel (HAW)
VANS US OPEN OF SURFING MEN'S ROUND 2 RESULTS:
Heat 1: Jadson Andre (BRA) 13.67, Sebastian Zietz (HAW) 13.47, Chris Ward (USA) 10.27, Adrien Toyon (FRA) 9.86
Heat 2: Kolohe Andino (USA) 14.27, Adriano de Souza (BRA) 12.60, Shaun Joubert (ZAF) 11.27, Patrick Gudauskas (USA) 10.40
Heat 3: Julian Wilson (AUS) 18.03, Alex Ribeiro (BRA) 12.27, Dane Reynolds (USA) 6.26, Willian Cardoso (BRA) 6.10
Heat 4: Michel Bourez (PYF) 14.04, Miguel Pupo (BRA) 13.90, Brett Simpson (USA) 12.66, Wiggolly Dantas (BRA) 9.50
Heat 5: Bede Durbidge (AUS) 11.30, Adrian Buchan (AUS) 10.84, Aritz Aranburu (EUK) 10.10, Nathan Yeomans (USA) 7.00
Heat 6: Kelly Slater (USA) 13.20, Vincent Duvignac (FRA) 12.50, Mitchel Coleborn (AUS) 10.83, Nathaniel Curran (USA) 9.37

VANS US OPEN OF SURFING MEN'S ROUND 1 RESULTS:
Heat 19: Marc Lacomare (FRA) 11.70, Evan Geiselman (USA) 11.74, Alain Riou (PYF) 10.87, Dillon Perillo (USA) 9.60
Heat 20: Perth Standlick (ZAF) 12.77, Josh Kerr (AUS) 12.66, Dale Staples (ZAF) 9.23, Nathan Florence (HAW) 5.37
Heat 21: Filipe Toledo (BRA) 14.60, Evan Geiselman (USA) 11.74, Alain Riou (PYF) 10.87, Dillon Perillo (USA) 9.60
Heat 22: Beyrick De Vries (ZAF) 14.57, Gabe Kling (USA) 11.67, Jano Belo (BRA) 8.44, Travis Logie (ZAF) 7.30
Heat 23: Mitch Crews (AUS) 13.54, Alejo Muniz (BRAZ) 13.33, Hizunome Betero (BRA) 11.27, Romain Cloitre (FRA) 9.23
Heat 24: Nat Young (USA) 13.93, Tim Reyes (USA) 13.34, Maxime Huscenot (FRA) 11.06, Billy Stairmand (NZL) 10.17